NEWCASTLE, England, Aug 14, 2011 (AFP) - Arsene Wenger insists he's not afraid to spend to boost Arsenal's Premier title hopes after their unconvincing start to the Premier League campaign.
New £10.5million signing Gervinho saw red in the lacklustre 0-0 stalemate at Newcastle, a bad-tempered affair which did little to dispel the gloom hanging over the London club after a troubled pre-season.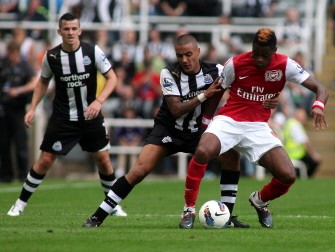 AFP - Arsenal's Cameroonian midfielder Alex Song (R) vies with Newcastle United's English defender Danny Simpson (2nd R) during the game
Wenger was subjected to taunts from frustrated Arsenal supporters urging the manager to invest in the squad.
The Gunners are set to receive around £60m from the imminent departure of key midfield pair Cesc Fabregas and Samir Nasri to Barcelona and Manchester City respectively.
And fans want the Frenchman, who is notoriously reticent to spend big, to buck the trend to ensure their side can mount a serious challenge for honours this season.
After seeing his 10-men hold out for the last 14 minutes to earn a point after Gervinho was ordered off for striking Newcastle midfielder Joey Barton, Wenger insisted he could open the chequebook.
"I'm not against spending money if the players we buy improve our squad.
"We must find them and we're looking very hard, believe me. We have a very big squad and if some players leave we'll try to bring others in.
"We request top quality. We're not scared to spend money, don't worry, but we want to know what we're getting for it. If you look at the quality of the players I've brought to the club you'll see I've not done too badly."
Wenger gave the latest on Arsenal's two apparently imminent departures.
He said: "We are on both fronts in no man's land.
"It can change quickly but at the moment they're Arsenal players."
Wenger refused to confirm talks were at an advanced stage for Nasri to join big-spending City, but he admitted there was a danger of Arsenal being seen as a 'feeder' club by selling their best players to their rivals.
He added: "Yes, we're concerned by that because when you take players at 16, 17, 18-years-old and play them in the Premier League you need to be brave.
"You do it because you think they deserve it but also because you think the club will be rewarded when they're 23, 24 and they're in a position to deliver so it's a concern of course."
Wenger felt Barton should have joined Gervinho in earning a red card after the former England international took issue with the Ivorian, who went down in the penalty area under challenge from Cheik Tiote in a contest of few clear-cut chances.
Barton was involved in Abou Diaby's sending off when the sides fought out a 4-4 draw here in February, and the Arsenal manager added: added: "I think I saw more than the referee.
"It's either two yellows or two reds, but not one red and one yellow. There's is a link between the two incidents - he (Barton) gets away with it, that's the link.
"We've been very harshly punished. We don't try to provoke, maybe we over-react and we have to take control of that, if we have an area to look at and improve on it's that maybe that. We'll learn from it.
"Other than that, I wouldn't like to comment too much more on that incident because I don't think it gives any credit to the Premier League. You know as well as I know he's (Barton) not been hit sufficiently to stay down for two minutes."
Barton was also the victim of an apparent second-half stamp by Alex Song which could see the Arsenal midfielder in trouble with the FA. Wenger added: "They can look at any incident again but the referee was next to it. It can be accidental, I don't know, I haven't seen it."
Newcastle manager Alan Pardew expects Barton still to be at the club after the closure of the summer transfer window in the wake of unexpectedly handing the unsettled midfielder a start.
Barton was placed on the transfer list earlier this month after a fall-out with the club's hierarchy, but Pardew insisted: "We've had our disagreements this summer, but he gave me assurances he was fully focused on the game. I think he'll be here after the window closes."