Vietnam's weightlifting and Taekwondo athletes are expected to have more chances to participate in the London 2012 Olympic Games than their counterparts on other sports, but that is not for sure yet.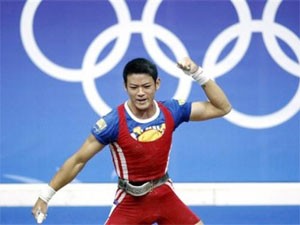 Vietnam's weightlifter Thach Kim Tuan
Vietnam weightlifting star Hoang Anh Tuan has been serving a two-year suspension since September last year. 17-year-old Thach Kim Tuan is considered as the most potential substitution at international competitions.

Similar to Anh Tuan, Kim Tuan competed in the 56-kilogram weight class at the 2011 World Junior Weightlifting Championships in Malaysia this month.

However, he gained measly 273 kilograms for both lifts, 120-kilogram snatch with 153-kilogram clean and jerk.

Although his achievements - one silver and two bronze medals - are quite remarkable, Tuan is expected to do better at the November Olympic Qualification to be qualified for the London 2012 Olympic Games. 

The Olympic games and the 26th SEA Games in Indonesia have been scheduled to take place at the same time. Thus Vietnam will have to carefully choose the most appropriate weightlifters to compete at each event. In the 56-weight class, Vietnam has two potential athletes including Thach Kim Tuan and Tran Le Quoc Toan.

Although Kim Tuan is now the top pick of international competitions, Toan achieved a better accomplishment, with a 290-kilogram result at the Beijing 2008 Olympic Games compared to Tuan's 273-kilogram in Malaysia.

With that achievement three years ago, Anh Tuan only settled for the second spot and got silver medal. To compete for medals in the 2012 Olympic, Kim Tuan, therefore, is recommended to exceed his senior's result, yet this demanding requirements seems to be out of his reach.

Although weightlifting and Taekwondo's athletes used to bring home impressive achievements in the Olympic Games, they both undergo crises now. The difficulty that Vietnam taekwondo is facing is seemingly more considerable than weightlifting nevertheless. 

Also on Jun 30, the no.1 Taekwondo fighter of Vietnam, Le Huynh Chau and his companions, Nguyen Thi Duong, Chu Hoang Dieu Linh and Duong Thanh Tam were all unsuccessful in the 2011 WTF World Qualification Tournament for London Olympic Games.

In this competition, only Chau could reach Round 16 while the others were defeated in the first round. This unexpected outcome switched Vietnam taekwondo's hope into the WTF Asian Qualification Tournament early November in Thailand.

Since the Sydney 2000 Summer Olympic Games where Tran Hieu Ngan got a silver medal in the 57kg category, Vietnam taekwondo's athletes could only stop at the very first round, although some had opportunities to participate in the 2004 and 2008 Olympic Games.

Vietnam taekwondo is now placed in a tough situation when the competent athletes for international competitions are rarer and weaker. Many specialists are even skeptical about the country's victory in a regional event as the 26th SEA Games, much less the medal in the London 2012 Olympic Games.

If Vietnam still does not try to make adequate preparations for the international competitions like Olympic Games, the opportunities for the national athletes of these two promising sports or any others to compete in this noble event cannot even be afforded, still less a dream of victory.