LONDON, Sept 3, 2010 (AFP) - Bulgaria coach Stanimir Stoilov rued the absence of retired Manchester United striker Dimitar Berbatov after seeing his toothless side torn apart by a rampant England.
Bulgaria squandered two clear-cut chances to score when the result of the Euro 2012 qualifier remained in the balance, openings that Stoilov believes Berbatov would have tucked away had he not quit international football.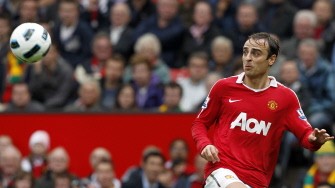 Manchester United's Bulgarian striker Dimitar Berbatov keeps his eye on the ball during the English Premier League football match between Manchester United and West Ham United at Old Trafford, Manchester on August 28, 2010. AFP
"Obviously for Bulgaria it's a big loss not to have Berbatov," Stoilov told reporters after his team's 4-0 defeat at Wembley.
"He will always be missed and if he had played today it would probably have been a different result. Our forwards need to concentrate more. Because without Berbatov they must play.
"That was the big difference between England and Bulgaria -- we had our chances and missed them; England had chances and they scored."
Stoilov ruled out the possibility of trying to persuade Berbatov to reverse his decision to step down from the Bulgarian national team.
"I don't want to comment on that. It's Berbatov's decision and we should respect that," Stoilov said.