BERLIN, May 28 (AFP) – World WBC heavyweight champion Vitali Klitschko will be looking to dispose of challenger Albert Sosnowski on Saturday with a possible unification title bout looming against David Haye.
Britain's Haye beat Russian giant Nikolai Valuev to claim the WBA heavyweight crown last November and his manager Adam Booth has begun talks with the Klitschko brothers.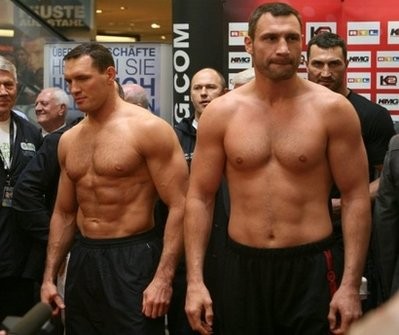 Vitaly Klitschko (R) of Ukraine and Albert Sosnowski of Poland pose during a public weighing on May 28, in Essen, western Germany. AFP photo
Vitali takes on European heavyweight champion Sosnowski at the Veltins Arena in Gelsenkirchen and this will be the fourth defence for the 38-year-old Klitschko of the title he won in October 2008.
His brother, Wladimir, holds both the IBF and WBO titles and the Ukrainian brothers would hold all the heavyweight titles if either of them beat Haye, but for now Vitali just wants to knock out Sosnowski.
"I feel in top shape," said Klitschko who has an impressive 37 knock-outs from 39 fights with just two defeats.
"My knock-out rate is 97 percent, so the probability of an early victory is 97 percent."
Klitschko is eyeing a career in politics, once his boxing days are over, and is considering running for president of the Ukraine in the national elections which are more than two years away.
"I am thinking about running as a candidate," he told German daily Bild.
In contrast, this will be Sosnowski's biggest fight of his career.
Last December, Sosnowski, who was born in Warsaw, but now lives in Essex, England, beat Paolo Vidoz for the EBU Heavyweight title, winning by unanimous decision.
He was subsequently lined up to face former Olympic gold medallist Audley Harrison for his first defence of the title with the fight being scheduled for 9 April 2010.
But he cancelled the bout for a shot at Klitschko's WBC title.
Sosnowski, 31, and 13 centimetres shorter than Klitschko, is confident of his chances.
"I am one hundred percent convinced that on Sunday I will be the new world champion and I will be writing history," said the Polish fighter.
"As always, my chances are 50-50, Vitali is a good fighter and I have to fight aggresively in any case."
Sosnowski has won 45 of his 48 professional fights, 27 of them by knock-out and the last of his two defeats came in August 2008 to Zuri Lawrence of the United States.