Vissai Ninh Binh (VNB) has announced the cancellation of yet another contract with a foreign team coach. This time, Singaporean Lim Lee Huat who led the team during four matches early this year, has been let go.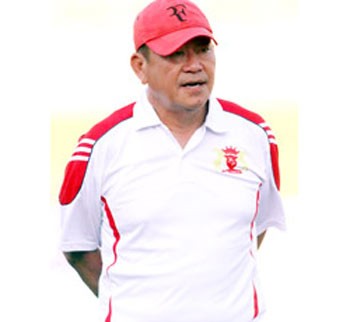 Singaporean coach Lim Lee Huat has been dismissed from his position as coach of Vissai Ninh Binh, leaving fans anxious about the team's future (Photo: SGGP)
No reason has yet been given for the coach's departure.
It is the second time the northern football team has canceled a contract with a foreign coach. Edson Tavares from Brazil, who also served twice as head coach of the national football squad, was also dismissed by VNB early in his contract.
The untimely farewell has caused much anxiety for fans in regards to the team's future and has raised more questions about why VNB keeps switching up its leadership.
Some speculate that Mr. Huat was let go due to his lack of coaching skills. His previous experience, in fact, involved working merely as a lecturer for the Asian Football Confederation. Prior to working with VNB, Mr. Huat had no actual coaching experience.
The coach's strategies indeed proved weak and the team failed to perform as expected. The worst loss came during their third match this year when VNB was beaten 5-2 by Dong Thap Cement.
Meanwhile, suggestions that the team lacks the finances to secure a good coach have been largely rejected, as have suggestions that the players are weak.
VNB is known as a relatively wealthy team and possesses several strong players like strikers Viet Thang and Sy Manh, half-back Nhu Thanh, and midfielders Tien Thanh, Ngu Chi Thang, and Xuan Thanh. Some players are even former national squad members.
Thus, many say Mr. Huat had more than enough advantages to successfully bring the team to victory.
Fans and sports insiders are also questioning why VNB did not promote Vietnamese freelance coach Le Thuy Hai to the position or use a Vietnamese coach, while opting to hire an inexperienced and expensive outsider.