A colorful opening ceremony and a parade of nations at the Phu Tho Indoor Sports Stadium in District 11 of Ho Chi Minh City formally kicked off the 2nd World Vovinam Championship in which Vietnam won  seven gold medals and two bronze on the very first day.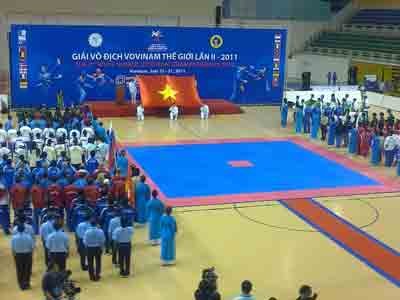 Athletes in the stadium during the flag salutation ceremony (photo: U. Phuong)
The championship hosted by the Vietnam Vovinam Federation will take place from July 28 to July 30.  It aims to promote Vietnamese traditional martial arts as well as give athletes a platform to develop their skills.
Athletes will compete in Kata performances and fights in both men and women categories.
The single male category has the five-gate forms, ten-techniques, eight-principle forms, ying-yang sword forms, four-element staff forms and sun-moon broad-sword forms.
The team category has the leg-attack technique, pair sword form, pair machete form, pair form without weapons, pair knife form, male multiple training (1 player defending against 3 others without weapons) and 3 players performing the Dragon - Tiger form.
The single female category has the Dragon - Tiger form, Dual knife form, Ying-Yang sword form and the broad-sword single form. The team category has the pair sword form with 3 players performing Thap Tu Quyen together.
The team category for both male and female includes female self-defense (1 female defends against 3 males without weapon and 1 female defends against 3 males with weapon).
This year's championship has 231 athletes participating from 22 countries. Host Vietnam has 47 participants most of who are new members as they are being given an opportunity to make their mark in the competition. They are facing strong opponents in the Iranians and Russians, who are good in their self-defense technique.
Iran won two gold medals and one bronze, Laos won one gold medal, two silver medals and two bronze, France won one gold medal, two silver medals and one bronze in this championship.
Vietnam won 23 gold medals, four silver medals and two bronze in the First World Vovinam Championship in 2009, also held in HCMC with athletes participating from 14 countries.