After days of horrid weather, which has affected the conditions of the National Stadium on the island of Singapore, rain kindly stayed away from the stadium on Saturday for Indonesia, Laos, Singapore and Viet Nam to start their matches in the Asean Football Championship.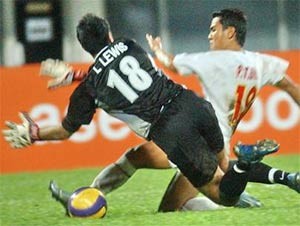 Viet Nam striker Phan Thanh Binh beats Singapore keeper Lewis, but the referee did not accept the goal (Photo: Tuoi Tre)
Defending champions Singapore and Viet Nam delivered a sizzling performance but after a tough battle, both sides had to settle for one point each as the game ended goalless.
After the draw, the Lions and Viet Nam stay behind group leaders Indonesia by two points. Indonesia beat Laos 3-1 in Group B's opener, also played at the stadium.
In fact, a goal was scored for Viet Nam in the 75th minute but the referee did not accept. Striker Phan Thanh Binh passed Singapore defender and captain Iskandar outside the box and his finish beat goalkeeper Lionel Lewis but the referee's decision was Binh had made a foul on Iskandar. However, the reverse angle by channel Star Sports almost showed no foul.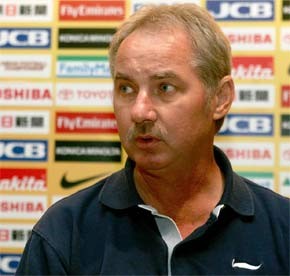 Viet Nam coach Alfred Riedl at the press meeting after the match (Photo: SGGP)
About the situation, Viet Nam coach Alfred Riedl said he did not see it well but he respected the referee's decision.
His counterpart Radojko Avramovic said: "The Vietnamese players were very fast and had good technique. It was not easy to beat them."
Singapore will face Laos on Monday while Viet Nam will take on group leaders Indonesia.
In their Saturday match with Laos, reigning runners-up Indonesia netted three times after their opponents. In the 13th minute, Kaysone Soukhavong split the Indonesian defense system with a neat pass to Sounthalay Xaysongkham who picked up the ball, raced in and fired past goalkeeper Hendro Kartiko.
A few minutes after the break, Atep equalized for the Indonesians. Substitute Saktiawan Sinaga made it 2-1 in the 67th minute and Atep netted again in the last minutes.
In Group A in Bangkok, Malaysia crushed the Philippines 4-0 and hosts Thailand drew 1-1 with Myanmar on Friday.
Related article
VN Seek Points despite Injury Worries ahead of Kick-off