In an exclusive interview with SGGP (English Edition) on March 25, Liverpool FC spokesperson Steve Cartwright shares his thoughts on Vietnamese youth football and provides insight on how to better develop the sport locally.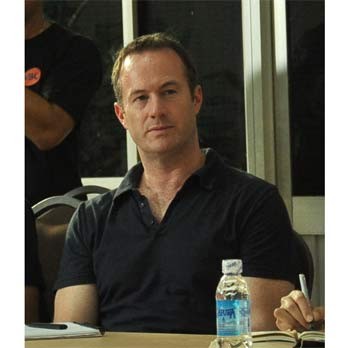 Steve Cartwright at the press conference on Mar 22 (Photo: VBC)
He also speaks about the reality TV show Soccer Prince, a program that gives youth the opportunity to compete and develop their skills, in relation to Vietnam.

SGGP: What was your first impression of Vietnamese footballers?

Cartwright: I think coming here with no expectations was the best approach, because Vietnam is very much an untapped market. It also gives us first-hand insight [into] the level of where the boys of the SP (Soccer Prince) project are in comparison to where the Liverpool boys are.
The Vietnamese boys are technically ok from what we have seen. However, we have not seen them in a proper game, which is where we could possibly get a better look at other aspects of their attributes. We look forward to that.

SGGP: After watching our boys train with yours, which [Vietnamese] player did you like most?

Cartwright: The [Vietnamese] Soccer Prince boys chosen to play the visiting LFC academy team did very well and could have won the game.  I think the show will unearth a very talented young footballer.  It would be inappropriate to single out any boy at this time as the SP project is still in progress, and any extra coverage of a particular boy may possibly cause unfair distraction. 

SGGP:  What is your opinion of local youth football training?

Cartwright: I don't know enough about the youth development infrastructure here in Vietnam, or whether there is any. In England, the government supports the educational side of the football development program [financially] to ensure that if the boys don't make it as footballers they have the qualifications to get a good job. I don't know what the plans are for Vietnamese football, but you have to start by putting infrastructure in place for it to start to grow, especially from the bottom with the youngsters to have a better future.

SGGP:  What would you say are the strengths and weaknesses of our players?

Cartwright: I think they could be improved in every area but that is not unusual for any player of that age. But one area that I think is clear is that they have no real upper body strength. Physical strength is important for many reasons, prevention of injury being one of them. So with an improvement in the physical development of the boys it would be important to educate them about diet and nutrition to ensure they are eating enough of the right foods to support their growth in physical size and strength.
SGGP: In regards to training in England, what is the difference between youth and adult programs?

Cartwright: To a degree, there are big differences. The academy is where the young talent is nurtured and monitored; their development to become professional footballers at the club is paramount so we give them the best coaching and they play against the best young players every week in the academy games program. From here, we continually monitor their progress. The games program at the first team level is entirely different from Premier League, Champions league, Cup games etc. They play more games and travel abroad to play games so it's slightly different where that is concerned.
SGGP:  Vietnam is climbing in regional football rankings, but obviously, there is still a long way to go. Do you have any specific suggestions for further improving local training conditions?

Cartwright: I think it's always encouraging when a small country climbs the FIFA rankings, however, this is sometimes based on results of matches. The most important thing is creating a transparent infrastructure so that in 10 years time everyone can see the progress, not only of the national team at the top, but also down at the bottom [with the youth].

The youth development plan should be supported financially at every club to ensure youngsters have a good chance to progress through the system along with improved facilities, coach education, and all the other support staff working around football having the facilities available to improve their knowledge.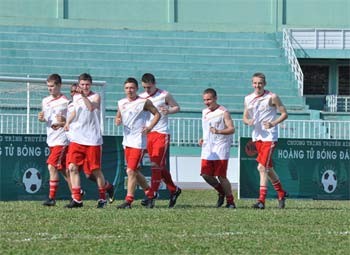 Liverpool boys practicing on Thong Nhat groud, district 10 before the friendship match against Vietnamese SC boys (Photo: VBC)
SGGP:
 What do you think about the reality TV show "Soccer Prince" and why did Liverpool FC decide to be a part of it?
Cartwright:
The Soccer Prince show mixes entertainment with serious football development.  The show has to be entertaining to engage all types of viewers and so to popularize the sport of football.  The prize is very real. Other similar shows deliver a short-term prize (perhaps a visit to an academy for a month). 
Soccer Prince delivers the real prize of long-term development for the winners.  The show and Kickworldwide have a long-term vision for the development and sustainment of football in countries such as Vietnam, China, India, Africa etc.  Liverpool Football Club shares this vision.
SGGP: Is there any chance for the winner of the SP project to play in a professional match against other English or foreign clubs?

Cartwright: There are two reasons why the winner of Soccer Prince could not immediately play in a professional match. Firstly age; the player will need a few more years of development before he could play at this level.  This is the same for the LFC boys of that age.  Second, there are work-permit restrictions.  It is hoped that Liverpool FC can develop the winning boy to a high standard and then that LFC and Kickworldwide can procure a professional contract at the highest level possible.
SGGP: Thank you.


The first challenge for the Vietnamese Soccer Prince boys during their friendship match with Liverpool FC's youth team resulted in a 5-5 draw on March 22 at Thong Nhat Ground, District 10, Ho Chi Minh City.
Related article:
Vietnamese youth to bend it like Beckham