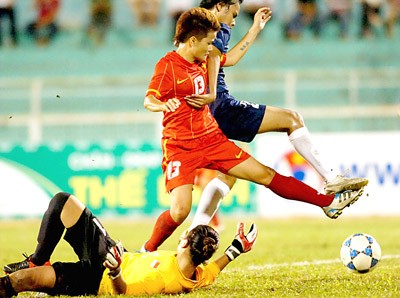 Nguyen Thi Muon (in red) of the Vietnamese team in the match between Vietnam and Singapore.
Vietnam beat Singapore in their second Group A match on September 13 at the ASEAN Football Federation Women's Football Championships.
Home spectators at the Thong Nhat Stadium in HCM City were thrilled as Vietnam overwhelmed Singapore 10-0, with five goals coming in each half.
In another match previously, Myanmar beat the Philippines 3-0 to claim second place in the group.
The action continues, as Thailand take on Malaysia in Group B on September 14