Vietnam's top-flight football league, the V-League, where most clubs are sponsored by business tycoons, will be organized despite football clubs at possible dissolution due to financial crisis, said Nguyen Trong Hy, chairman of Vietnam Football Federation (VFF) and Tran Duy Ly, head of the organizing committee of the prestigious V-league Championship.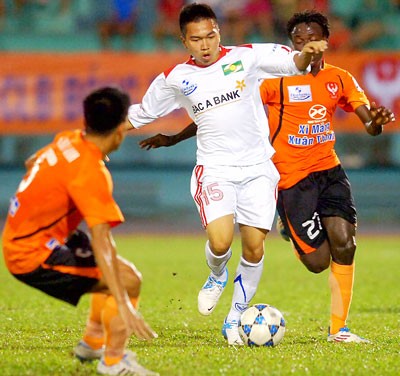 Players of Saigon and Song Lam Nghe An compete at a match. Both the clubs are in risk of closure (Photo: SGGP)
This year the Vietnam Football Federation faced a severe image battering after its boss and main financial backer, Nguyen Duc Kien, was arrested.
The situation threatened closure of two of Vietnam's most prestigious football clubs, Hanoi Soccer V-League and Hanoi Juniors in the First Division. There has also been no alternative financial resource to support the clubs, in the wake of the present economic crisis.
The Ho Chi Minh City based Navibank Saigon football club has announced that it is seeking permission to be transferred to the Hanoi Football Federation (HFF), as Navibank has officially stopped sponsoring the club.
The future of Song Lam Nghe An Football Club is also under question, as the club is still awaiting the results of the meeting between province authorities and its sponsor, Bac A Bank.
The club's chairman Nguyen Hong Thanh said that the club funds are totally depleted without a single remaining cent, and hence it cannot maintain the contracts with footballers any longer. It is estimated that the club needs some VND45 billion ($2.1 million) to be able to maintain operations for one season. Half of that sum will go to players and coach payments.
Added to this situation, no club can satisfy the standards set by VFF and the Vietnam Professional Football (VPF) for football season 2013, such as a seasonal budget of VND25 billion (US$1.2 million), an impossible task in these trying times when even some of the top level clubs have failed to receive sponsors.
Navibank Saigon football club wanted to sell rights for VND30 billion ($1.4 million) but failed to do so. Navibank Saigon cannot lower their stake further as they need that amount to resolve existing debts in contracts with players.
In addition, private clubs like Saigon Xuan Thanh and Vissai Ninh Binh have given no indication that sponsors will continue to support them, while the local government has refused to receive the clubs. It is estimated that around 100 players will not have contracts in the next season as no club dares to sign them in the present economic crisis.
VFF said it cannot solve these problems. Before, when each province had a sports department, VFF could call for social contributions. However, at present, all clubs work under an enterprise and under the Law of Business which regulates financial problems and contracts with players.
As of now all clubs are awaiting new changes and restructuring, said Nguyen Hong Thanh.