Vietnam's International Grand Master Le Quang Liem stunned Ukraine's Ruslan Ponomariov at the Dortmund Sparkassen Chess Meeting in Germany on July 26.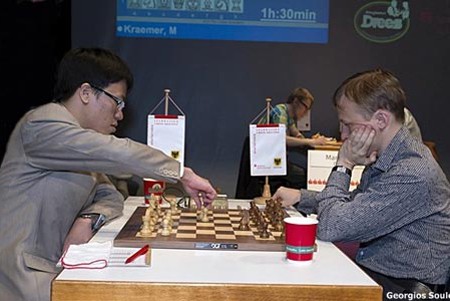 Le Quang Liem of Vietnam (R) plays Ukraine's Ruslan Ponomariov in Dortmund on July 26, 2011 (Photo: Georgios Souleidis)
Liem's first tournament win, which took him sixty minutes and 71 moves, pushed him into second place with three points after five matches, 1.5 points behind first placed Russian Vladimir Kramnik.
Defending champion Ponomariov, ranked 10th in the world, dropped to third place with 2.5 points.
HCM City-born Liem, who won the Aeroflot Open twice in a row, will play host Georg Meier during his second leg game on July 27.
The annual tournament is only open to six International Grand Masters including Russian Vladimir Kramnik, Ukrainian Ruslan Ponomariov, American-Japanese Hikaru Nakamura, Dutch Anish Giri, Vietnam's Liem and host Georg Meier.