Vietnam's football squad coach Falko Goetz says he expects "a positive result" from the upcoming World Cup qualifier against Qatar and affirms he also targets a victory at the 26th SEA Games.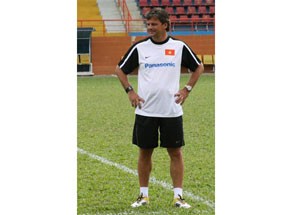 Coach Falko Goetz in a training session
Vietnam's victory over Macau in the two previsous game pleased coach Falko Goetz and seemed to boost his hope for Vietnam team's ability.
Although the coach admits that Qatar plays a better football than Macau and even Vietnam, he still keeps his belief on the competence of the Vietnam National Football Team.
He also claimed that effort, confidence and faith could help Vietnam achieve a satisfactory outcome and even notch up a well-deserved victory to Qatar.
The German coach says that his most important target, however, is the team's results from the tournaments that Vietnam Football Federation expects, which include gold medal in the 26th SEA Games.
Coach Falko Goetz is now doing his best to make a good preparation for the national team, not only for the 26th SEA Games, but also for the tournaments where Vietnam footballers can forcefully assert themselves.