The youth team from the legendary Liverpool FC will visit Ho Chi Minh City for a friendship match with a mini-team from the reality show "Vietnam Soccer Prince" at Thong Nhat Stadium, District 10, on Mar 22.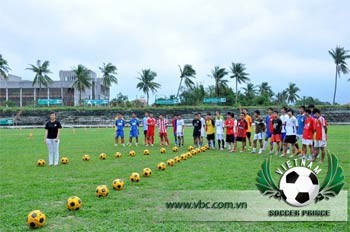 The players from the "Vietnam Soccer Prince" Show practicing their skills in preparation for the Mar22 match with young footballers of Liverpool FC (Photo: VBC)
Among the Liverpool team members, Raheem Sterling's visit is most anticipated because of his reputation as a new talent in world soccer. Raheem has been invited by several popular clubs like Manchester United and Liverpool. He's often referred to as a young Michael Owen.

The other U.K players are Lewis Hatch, Bradley Smith, Thomas Walsh, Matthew Regan, Joshua Summer and Peter Aylmer. The FC manager Rafael Benitez will also accompany his team.
 
The match will kick off at 4pm. Entrance to the match is free, and for those who can't come they can view it on the cable channel of VBC at 8.30pm Apr 30.

The concept of the reality show is to search for the next generation of soccer stars aged from 16 to 19. The top five will win a 7-day trip to Liverpool FC. The top player from the show will be granted a one-year training course at Liverpool, worth US$105,000.

This is co-presented by VBC, Fremantle Media and Kickworldwide. The show airs every Wednesday and Friday, at 8.30pm.