Talented young Vietnamese volleyballers will have another chance to prove their potential at the 2015 International Women's Volleyball Tournament – VTV Cup, which is scheduled to open in the southern province of Bac Lieu on July 24.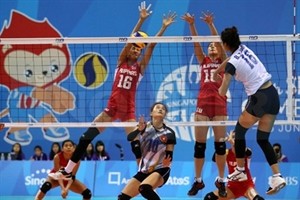 Bui Thi Nga of Viet Nam (right) in action against the Philippines during the 28th SEA Games. Photo: frame.inquirer.net
Coach Thai Thanh Tung has called up veterans Nguyen Thi Ngoc Hoa, 28, and Do Thi Minh, 27, to his 12-member squad for the event.
The remaining players are all aged 21 or under, including 18-year-old Tran Thi Thanh Thuy who is the tallest at 1.89m, Ha Ngoc Diem, Le Thi Hong, Bui Thi Nga and Le Thi Thanh Thuy, who was named Miss Volleyball at last year's event.
Tung selected them following their performances at recent international events such as the 18th Asian Women's Volleyball Championships in May and the 28th Southeast Asian Games in Singapore last month. In Singapore, Vietnam finished second behind Thailand.
Tung said in the near future, they will be key players for the national team.
At the same event held last year, coach Nguyen Manh Hung also selected a young team, and surprised many by winning the event.
According to veteran Hoa, the young athletes will boost Vietnam and help the team defend their title in Bac Lieu.
Hoa is the nation's No 1 volleyball player at present. She has the record for taking part in the SEA Games for seven times and the VTC Cup 12 times in row.
Hoa has also attracted attention from foreign clubs, especially in Thailand.
"I hope that with these young players and support from fans in Bac Lieu, the team will play well and defend their title at this year's event, said Hoa.
"Young players will bring new blood into the team, and we want to reach the final," said Tran Duc Phan, General Secretary of the Vietnam Volleyball Federation.
"Although the team is not at full fitness, the federation hopes they will make every effort and show a new way of playing at the VTV Cup," Phan added.
Together with Vietnam, Thailand U23s, the Philippines, the Democratic People's Republic of Korea (DPRK) and China's Liaoning and Nanjing will take part in the event.
Vietnam will play the Philippines in the opening match on July 25, while Liaoning face Thailand and the DPRK play Nanjing.
In preparation for the event, Tung's players left for Bac Lieu for training matches with DPRK.
The winners will walk away with  US$ 10,000, while the runners-up will receive US$ 7,000 and US$ 5,000.