The Vietnamese team Dat Vinh Tien won the International Tiger Street Football 2013 Championships after trouncing China's South Canton 8-0 in the final match in Ho Chi Minh City on November 10.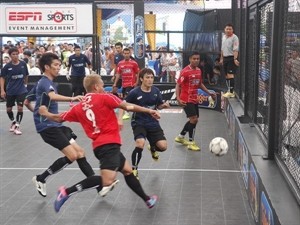 (Photo:VNA)
Before South Canton, Dat Vinh Tien defeated Floripa from Brazil 3-1.
The champion received 30,000 USD in prize money while the first runner-up South Canton pocketed 10,000 USD and the second one, Floripa, went home with 5,000 USD.
The one-day final round of the competition saw the participation of four Vietnamese teams and eight others from the United Kingdom, Brazil, Mongolia, China, Australia, Cambodia, Singapore and Malaysia. It was organised in knockout form.