Nguyen Trong Hy, President of Vietnam Football Federation, said at a press briefing Vietnam took part in the 2014 World Cup with the first aim of broadening experiences and the matches with a mighty Qatar late this month is also not beyond this goal.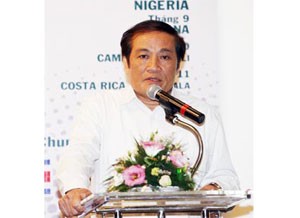 President Nguyen Trong Hy in this Monday press conference
On consideration, Hy and Vietnam Football Federation or VFF saw that two overwhelmingly 6-0 and 7-1 victories against Macau in the 2014 World Cup qualifiers could not reflect accurately the ability of German coach Falko Goetz and current Vietnam National Football Team.

According to Hy, VFF only encouraged national team with some hundred million of VND for their big win over a weak opponent like Macau.

It, however, is willing to remunerate national team a sizable sum of money for their dazzling performance in the second round with such a formidable obstacle as Qatar, host of the 2022 World Cup.  

Hy also asserted that Vietnam knew its position in the world ranking. Vietnam National Football Team, therefore, only participates in the 2014 World Cup with the purpose of accumulating experiences, especially for the 2012 AFF Cup, not with the hope of being a participant in the final round in Brazil. 

As regards head coach Falko Goetz, the VFF's chairman also give some positive comments on the German coach's effort. In his view, Goetz helped improve the competence of footballers in national team. He is also very friendly with the footballers and only strict at work.

If one footballer, however, cannot get over a training session for any reason or does not show his attempt during the training, he will not be allowed to play until he completely deals with his shortcomings.

With their first triumph in the qualifiers, Vietnam is on its way to play Qatar in the second round. The first leg will be held at Al-Sadd Stadium of Doha on July 23 and the second leg will follow behind at My Dinh National Stadium five days later.

In the FIFA World Ranking last updated on June 29, Qatar is now ranked 94th while Vietnam is spotted at 140th, 46 places lower than Qatar.