Vietnam bounced back decisively to see off mighty Qatar 2-1 at their home leg on Thursday but their 2014 World Cup campaign still came to an end due to a 4-2 lost on aggregate.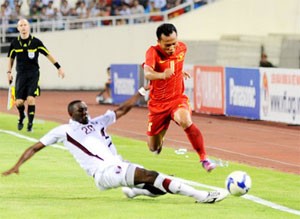 Winger Trong Hoang (in red) races past Qatar's defender Mohamed Musa
Qatar widened the 2-1 first leg deficit with striker Yusef Ahmed's opener from outside the box in the 17th minute.
But goals of Vietnam's Trong Hoang and Quang Hai helped the home side stage a brilliant late comeback in the second half to round off the evening to savor at the My Dinh Stadium.
Vietnam showed an all-out attack performance soon after kick-off, but Yusef Ahmed silenced the stadium with an unstoppable long-range goal.
The lethal striker controlled the ball skillfully from a long cross before firing in a powerful volley outside the box.
Vietnam, however, did not give up after the opener as the home side continued to play in frantic pace, with in-form striker Cong Vinh heading winger Tan Tai's right corner right at goalie Burhan in the 21st minute.
Eight minutes before the break, the winger fired in a powerful long-range shot, but it was wide off the bar.
Vietnam's efforts paid off in the 60th minute, with midfielder Trong Hoang's stunning equalizer.
A brilliant move led to Cong Vinh slotting in before the midfielder managed to avoid a tackle from inside the box.
He then steered a precise finish past advancing goalkeeper Burhan in one-on-one.
Qatar were rocked after the equalizer and striker Quang Hai turned the tie on the home side's head, with a powerful header.
He arrived on the end of headed winger Quang Thanh's searching right-flank cross to head the ball into the net as goalie Burhan failed to parry away.
"Before the game, no one believed we could defeat Qatar. But we did," said German coach Falko Goetz in a press briefing after the game.
"This is an outstanding game of Vietnam. My men gave everything into the game and achieved a wonderful victory. I am so happy with the victory,"