The result of a draw match between Vietnam team and the U23 South Korean team in the final game of the VFF tournament is being considered a nice ending with both sides satisfied.
The South Korean team, with the youngest players, left a good impression with two convincing wins.
In last night's match, the South Korean's just needed to 'speed up' a little, and the Vietnamese team would not have got a draw with the U23 team.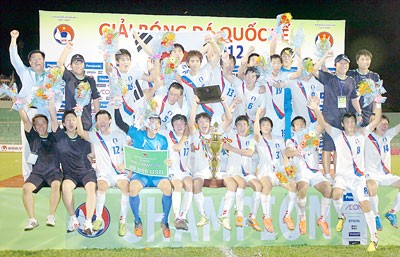 South Korea's U23 team wins the VFF Championship Cup (Photo: SGGP)
However, as the Koreans already had one hand on the VFF Championship Cup, they did not play in a too drastic attacking style as in the two previous matches against Laos and Turkmenistan.
Vietnam ended the four-team invitation 2012 VFF Cup in third place after a 1-1 draw with South Korea at the Thong Nhat Stadium on Sunday.
Except for the absence of Captain Minh Duc, midfielder Tan Tai and striker Cong Vinh, the Vietnamese coach assigned his strongest formation for the last match of the event.
The host presented a far stronger and effective playing style than they did in the two previous matches, and at several points managed to challenge the South Korean defense.
However, it was the U-23 team who took the lead after it was awarded a penalty kick at the 42nd minute as goalie Duong Hong Son fouled a striker, and captain Kim Bong Rae easily netted the goal.
After the match, in an interview with media, Coach Phan Thanh Hung said he was pleased with the result.
"The new players have proved they deserve to replace the veterans on the national team", said Hung.
Coach Hung made two substitutions in the second half, and the changes paid off as Van Quyet equalized the game at the 58th minute with a free kick.
Although they didn't win the match, the Vietnamese squad has gained back the trust of local fans.
"At the moment I'm quite satisfied by the performance of the new players," Coach Hung told reporters at the post-match press conference.
"But we still have to improve on many things," he added.
U-23 South Korea thus claimed the championship with 7 points, followed by Turkmenistan (6 points), and Vietnam (4 points). Laos was at the bottom of the standings with three losses.
The Vietnam team left Ho Chi Minh City for Hanoi today to prepare for the second leg of a friendly match with Malaysia at My Dinh on November 3.