Korean head coach Park Hang-seo continued to make a surprise as he had somes changes to the team's formation and players compared to the team's previous matches.

With solid defence and successful saves of the goalkeeper, the Cambodian side managed to stop many dangerous attacks of Vietnam in the early time of the match.
Nguyen Tien Linh (Number 22) broke the deadlock to open the score for Vietnam with a powerful header at the 39th minute.
Two minutes later, Nguyen Quang Hai (Number 19) scored the second goal from a pass of Nguyen Phong Hong Duy (Number 12) from the left wing.
At the 61st minute, Phan Van Duc (Number 20) made the home crowds go wild again with a delicate shoot. His goal strengthened Vietnam's top position in Group A.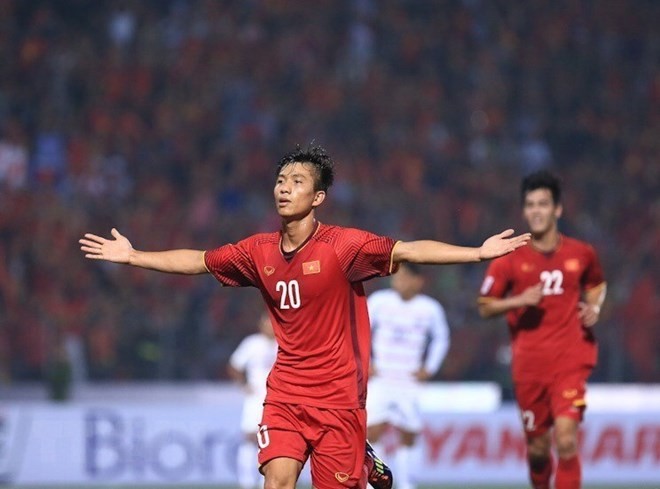 Phan Van Duc (Number 20) celebrates his goal after scoring the third goal for Vietnam. (Photo: VNA)
Meanwhile, Malaysia won Myanmar 3-0 in the concurrent match of Group A, qualifying for the semifinal of the regional football tournament.
With this result, Vietnam topped Group A with 10 points (three victories and a draw). Especially, the team kept a total clean sheet during the group stage.
On December 2, the squad will play with the second-placed team from group B. The return leg of the semifinal match is scheduled to take place four days later.
In Group B, the Thailand-Singapore and Indonesia-Philippines matches will take place on November 25 evening.
In the tournament, Vietnam beat Laos 3-0 in their first match of Group A at the Laos National Stadium in Vientiane on November 8, and then Malaysia 2-0 in the second match at Hanoi-based My Dinh National Stadium on November 16.
On November 20, the team drew 0-0 with Myanmar at Thuwunna Stadium in Yangon.
The AFF Suzuki Cup 2018 is taking place from November 8 to December 15 with 26 matches among 10 teams. Vietnam are in Group A together with Malaysia, Myanmar, Cambodia and Laos.
This year, the AFF Suzuki Cup features a new playing format, with both home and away ties.
In the tournament's history, Vietnam won the championship just once in 2008. With the leadership of coach Park Hang-seo and the current squad, both Vietnamese and Korean football fans are hopeful the S-shaped country's team will take the trophy for the second time after 10 years awaiting.