Vietnam's national football squad defeated U23 Kuwait 3-0 on Monday to take the lead of the Millennium Thang Long-Hanoi Cup after North Korea beat U23 Australia 1-0 the same day.
The four teams are competing in the round-robin tournament at My Dinh National Stadium in Hanoi on Sep. 20-24.
North Korea, with six players attending the FIFA World Cup in South Africa in June and June, could score only one goal in the opener against Australian juniors.
In the later game, Vietnam striker Nguyen Viet Thang opened the score for the hosts by a penalty before the break. A handball by a Kuwait defender in the penalty box resulted in the penalty.
The goal followed a dozen missed chances. Vietnam, the current Southeast Asian champions, needed only minutes to check their rivals before opening consecutive attacks.
Senior halfback Le Tan Tai nearly had the opening goal in the ninth minute as he received a ball from a Kuwait defender who miss-kicked.
Captain Nguyen Minh Phuong ran the ball through two defenders and shot towards the net but keeper Marzouq blocked it.
Forward Quang Hai made several assists for his teammates and had his own opportunity but his strike went wide, despite it being from only 16m.
After the break, the hosts continued to organize attacks toward the Kuwait side. Captain Phuong doubled the score gap in the 66th minute with a finish outside the box.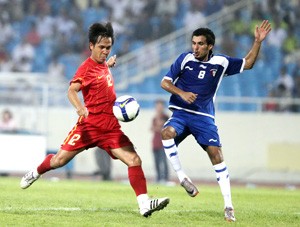 Vietnam captain Nguyen Minh Phuong (L) scores the second goal with a shot outside the box during the Vietnam vs. U23 Kuwait game at My Dinh National Stadium on Sep. 20, 2010 (Photo: SGGP)
Nguyen Trong Hoang, who replaced forward Quang Hai in the 79th minute, finalized the score at 3-0 with a close-range shot about eight minutes before the final whistle.

Vietnam's Portuguese coach Henrique Calisto said after the game that his team had missed many chances
On Wednesday, Vietnam will take on U23 Australia while North Korea will play U23 Kuwait.