Viet Nam's women football team are preparing for the 2008 Asian Cup with a high spirit as they have won all three qualifying matches over Chinese Taipei, Iran and Myanmar.
Chinese-born coach Chen Yun Fat says his girls are in a position to stun their opponents. "We will not compete the Asian Cup as the underdogs. We keep working very hard to ensure out best performance."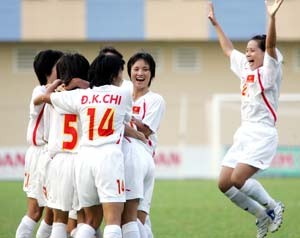 Vietnamese players share happiness after their goal was scored in the Mar. 28 match with Myanmar in HCMC. (Photo: SGGP)
He says such teams as China, Japan, North Korea and South Korea are stronger than Viet Nam but his girls will play self-confidently in order not be the minnows.
Last year, the men's team of Viet Nam stunningly reached the quarter-finals of the Asian Cup for the first time. No other Southeast Asian teams could make it.
In the 2008 Asian Women's Football Championships, Viet Nam will compete as the winners of Group A. They beat Myanmar 1-0 on March 28 in their last match of the Group A qualifiers, staged in HCMC, after defeating Iran 4-1 and Chinese Taipei 3-1. Chinese Taipei will join as the runners-up – they obtained three points as both Myanmar and Iran did but went through the slot thanks to goal difference.
In group B, South Korea and Thailand will go to the championship.
The four seeds – Australia, China, Japan and North Korea – will join the said four teams in the final round, which is scheduled from May 28 - June 8. The Asian Football Confederation has not announced where it will be staged.
Related article
Viet Nam Women Upbeat Ahead of Asian Cup Qualifiers