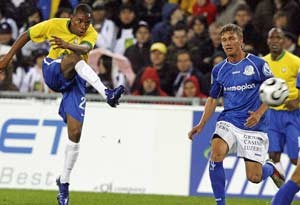 Real Madrid striker Robinho (L), a player of Olympic Brazil, in a match
The national soccer team of Viet Nam will play a friendly match in Ha Noi on July 27 with Olympic Brazil, who are preparing for the 2008 Beijing Olympics.
The two teams will be playing at the My Dinh National Stadium. Brazil coach Carlos Dunga, such stars as Ronaldinho (Barcelona), Robinho (Real Madrid), Anderson (Manchester United) and Diego (Werder Bremen) and the other members of Olympic Brazil are set to arrive in Ha Noi on July 26.
On July 14, the Football Federation of Brazil officially accepted the invitation from the Viet Nam Football Federation, which will pay US$500,000 USD for the match.
Olympic Brazil are planning to have two other friendly matches with teams in Southeast Asia to prepare for the 2008 Olympics in this August.
The Viet Nam Football Federation plans to sell tickets in the range of VND400,000 – VND600,000 each.