The Viet Nam Satellite 2006 promises to be an exciting badminton tournament as many international players high in the International Badminton Federation ranking will vie in the event in Ho Chi Minh City from April 19 to 23, 2006.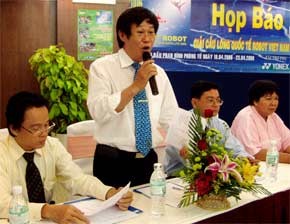 Viet Nam Badminton Federation general secretary Le Thanh Sang addresses the press meeting (Photo: Tuong Thuy)
A total of 112 male and 65 female players from Cambodia, Hong Kong, Indonesia, Japan, Korea, Laos, Malaysia, New Zealand, the Philippines, Singapore, Thailand and Viet Nam will compete at Phan Dinh Phung Stadium, 8 Vo Van Tan Street, District 3, the organizing committee said at a press meeting on April 11 in Ho Chi Minh City. 

Japan and New Zealand take part in the tournament for the first time. Ms. Huynh Ngoc Lien, the organizing committee's deputy head, said the International Badminton Federation and the Asian Badminton Confederation have recognized the success of the Viet Nam Satellite in the past few years, resulting in new teams joining this year, and prizes will total US$10,000 – US$3,000 higher than last year's.
This year, the competition will have 75 entries in the men's singles, 34 in the women's singles, 39 in the men's doubles, 25 in the women's doubles and 29 in the mixed doubles.
In the men's singles, Chan Yan Kit from Hong Kong, 36th in the World  Ranking, is the first seed. The second seed is Thai player Sapkulchananart, 37th in the World Ranking. Three other top seeds are 60th-world ranked Jeffer Rosobin of Indonesia, 68th-world ranked Nguyen Tien Minh, the Vietnamese champion, and 99th-world ranked Lee Cheol Ho of Korea.
The first seed in the women's singles is also a Hong Kong player – Yip Pui Yin, ranking 19th of the world. The other seeds include Meemek Monthila (Thailand, world rank 23), Mudukasan (Malaysia, world rank 30), Ponsana Salakjit (Thailand, world rank 32), and Jang Soo Young (Korea, world rank 39).
Ms. Lien, deputy head of the organizing committee, said the Asian Badminton Confederation has appointed Vietnamese national Ngo Nhu Tam as the chief referee for this year. This is unprecedented as, on principle, the chief referee of a Satellite tournament is never a national of the host country.
She also said a bigger event would take place in Viet Nam this August – Viet Nam Open, which would attract more players from more countries and territories. 
The Viet Nam Satellite 2005 drew over 150 players while 113 players competed in the Viet Nam Satellite 2004. The tournament is officially called Robot Viet Nam Satellite because the main sponsor is Robot, a Ho Chi Minh City-based manufacturer of electric and electronic devices.
In Viet Nam, badminton is practiced by professionals and amateurs nationwide. Many people in Ho Chi Minh City play badminton every day.
Links:
International Badminton Federation
Asian Badminton Confederation

Related article
Nguyen Tien Minh makes brilliant victory