Viet Nam and Indonesia fought to a 1-1 draw on Monday in Group B and this means the latter must score many goals in their next match with Laos for a berth in the Asean Championship's semifinals.
Le Tan Tai of Viet Nam (L) fights for the ball with two Indonesian players. The final score was 1-1. (Photo: VietnamNet)
Viet Nam lost their victory over their arch rivals Indonesia just in the injury time. If this had not happened, they would have seen an opener entrance.
The Reds succeeded in their battle at Singapore's National Stadium in most of the time but Indonesia equalized in the moment the Vietnamese lost their concentration.
It was an open game as both sides played aggressively, merely because they all wanted to win to go through to the semifinals. Continual attacks from both sides forced both goalkeepers to do their utmost to save their goals.
All attacks resulted in no goals until the 36th minute when Phung Quang Thanh made a cross from his right side. Striker Phan Thanh Binh flew for a header but the ball did not touch his head, hitting Indonesia defender Supardi instead and rolling into the net. In fact, Binh's move hid the defender's eyes.
The Indonesians became over hasty and this also meant more chances for the Reds in counter attacks. Both sides missed various scoring chances when the game turned opener: many more Indonesian players approached Viet Nam's box and when counter attacks came, the Indonesian defense system was loose.
It was fair that the ball hit a goal post twice, each for one side. Indonesia's Jayakesuma made one in the 82nd minute and Le Cong Vinh made the other a few minutes later.
The injury time came after 90 minutes. Saktiawan Sinaga destroyed a victory for Viet Nam with a header from a free kick on the left side.
Viet Nam coach Alfred Riedl said Indonesia were a very strong team and never stopped fighting until the final whistle to obtain one point.
"However, we still have a match with Laos and I believe that we will go through to the semifinals," he said via television.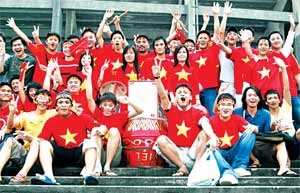 Vietnamese fans at the National Stadium in Singapore (Photo: SGGP)
The Vietnamese crowd at the National Stadium and millions of fans at home almost saw a win but they have to wait until Wednesday when their team will play Laos, who were beaten by Indonesia and hosts Singapore. Defending champions Singapore will face Indonesia Wednesday at the same time with the Viet Nam-Laos match.
Anyway, Riedl and his players were delighted by the strong support they received in their opening match with defending champions Singapore and Indonesia.
Singapore's National Stadium sounded at times like Viet Nam's My Dinh National Stadium as the vocal contingent of Vietnamese fans waved their flags and chanted and sang all the time.
Related article
VN, S'pore Net no Goals, Indonesia Take the Lead