Viet Nam has a realistic chance of bagging at least five gold medals and ranking in the top 15 at the Asian Games in Doha, Qatar from December 1 to 16, team chief Nguyen Hong Minh announced on Monday.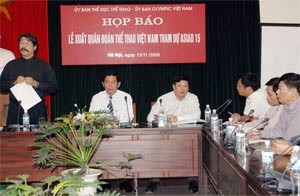 Mr. Nguyen Hong Minh (L) at Monday's press conference
He told a press conference in Ha Noi that Viet Nam would be sending 247 athletes to Doha to compete in 25 of the 39 sports.
Each gold medalist will receive a bonus of VND45 million from the Government, Mr. Minh said.
A further US$2,000 for each gold winner has been pledged by the Bach Viet Company, the title sponsor of the BV Football Cup, which will take place in Ho Chi Minh City from November 15-19 with the participation of Viet Nam, Indonesia, Olympic Cameroon and Olympic Finland.
Viet Nam's best chances for gold are in taekwondo, judo, karate, bodybuilding, wushu, weightlifting, billiards, snooker, sepaktakraw, track and field, and shooting, the delegation chief said.
"However, just three or four gold medals will be excellent because there are currently about 100 Olympic and world champions in Asia," Mr. Minh said.
The Vietnamese contingent for the 15th Asian Games will be given a lavish farewell in Ha Noi on November 23.
In all, 12,000 athletes from 45 countries and territories will compete in this year's games.
At the 14th Asian Games in the Republic of Korea four years ago, Viet Nam scored four gold, seven silver and seven bronze medals to come 15th out of 44 in the final tally.