MENDOZA, Argentina, July 21, 2011 (AFP) - Venezuela said they felt very hard done by after losing 5-3 on penalties to Paraguay in their Copa America semi-final on Wednesday after a goalless draw which they dominated.
Not only did the underdogs hit the woodwork three times but they also had a goal disallowed as twice champions Paraguay moved into Sunday's final against Uruguay, chasing a record 15th title.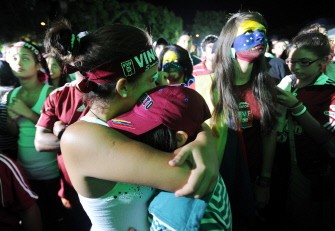 Venzuela fans reacts following the 2011 Copa America semi-final football match between Paraguay and Venezuela in Caracas on July 21, 2011. AFP
"I don't want to do them down - but Paraguay were incredibly lucky," said downcast coach Cesar Farias. "But we go home with our heads held high.
"They chalked off a goal for us, we hit the woodwork three times and created more chances. We should have won but it didn't work out for us," said Farias, whose side was, the shooutout aside, unbeaten throughout the tournament in reachnig the semis for the first time.
"This is how things go with football and I cannot reproach my players. we didn't lose a match throughout. Penalties are basically all down to luck and today it wasn't on our side."
Farias resisted the temptation directly to criticise Mexican referee Francisco Chacon, who should have dismissed rather than booked Dario Veron for butting Giancarlo Maldonado in extra-time.
It was Veron who would score the winning penalty kick.
But Farias did note that "I am tired of hearing that the big boys get to decide (outcomes). This happens when they get the rub of the green from the referee. This hypocrisy has to end."
Tempers boiled over at the end with a mass scuffle between both team's benches but Farias absolved his side of any blame.
"We never look to provoke incidents," Farias insisted and said his men deserved the utmost respect, while insisting the Paraguayans had started the contretemps.
Venezuela substitute Giancarlo Maldonado said he was sad to have come so close and missed out.
"We could have got so much further - we played good football but we didn't get lucky.
"Yet we should be proud of what we have achieved."
Teammate Gabriel Cichero added: "We didn't convert our chances and Paraguay were lucky but that's football," he told TyC sports
Paraguayan keeper Justo Villar also conceded that fortune had favoured his side.
"It's not that we have been practising penalties - we've been rather lucky," said Villar, whose compatriots also knocked out Brazil in the same fashion in the quarter-finals.
Venezuela will now play for third place against Peru at La Plata outside Buenos Aires.