MILAN, Feb 24, 2011 (AFP) - Bayern Munich coach Louis van Gaal admitted he was surprised by Inter Milan's attacking style as his side snatched a crucial 1-0 victory at the San Siro.
Mario Gomez scored the only goal of the game in the last minute after Inter's Brazilian goalkeeper Julio Cesar had failed to hold Arjen Robben's stinging shot.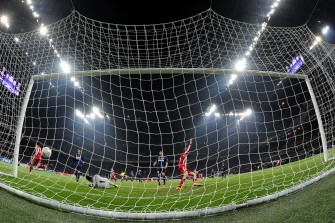 Mario Gomez (L) celebrates after scoring against Inter Milan at San Siro Stadium in Milan. AFP
It was sweet revenge for the Germans after their defeat to Inter in the final in Madrid nine months ago and Van Gaal insisted they were clear favourites to progress following the second leg in Munich in three weeks time.
But having claimed before the game that Inter's style had not changed since that final in May, where Jose Mourinho's side proved effective on the counter-attack, Van Gaal admitted he was surprised at the Italians.
"I was very surprised by Inter's performance, they wanted to win the game," he said.
"It was a very good game, very attractive and everyone can be happy with the game, it was fun. It must have pleased everyone who watched it.
"Of course we have a better chance of progressing now because we scored an away goal but Inter have a lot of quality and they could also score in Munich.
"They have a good team and although we dominated the second half, in the last 10 minutes they created many chances and that's a sign of quality.
"We were lucky to score in the last minute but then again we could have scored before that.
"In the final Inter were less attacking but the result was different and here it was better for us.
"But this is football. In the final we had 65 percent of possession and here we had only 55 percent, which is 10 percent less.
"We created less chances than in the final and they created eight chances here and only five in the final, but they scored from two of those five."
"We can be very contented with our performance, it was a good game, Inter played well.
"I have to say there could have been a different result but given that we were playing away and the way we dominated the second half, then we deserved to win."
Bayern goalkeeper Thomas Kraft made a number of crucial saves from Samuel Eto'o and Houssine Kharja most notably and Van Gaal paid tribute to his shot-stopper.
"He's a player in my team, he showed his qualities, he has amazing reflexes and he's very important to us.
"But we created many more chances than Inter."
Inter coach Leonardo insisted that his side are still well in this tie.
"I believe and that's not just me being optimistic but becauses of the desire that we showed despite having changed our system, we still played very well," he said.
"There's very little difference between winning 1-0, drawing 0-0 and losing 1-0.
"We need to play in a way that shows we must win in Munich but I don't see anything extraordinary in that."
Leonardo started the game with Eto'o as a lone striker whereas he has previously played with either two or three up front.
But he denied that he had hampered the team's attacking potential by not pushing enough men forward.
"There are always different options but you try to make decisons based on the players you have," he said.
"Of course we played a different system than before but there were a variety of reasons for that, one being that we only had two forwards, the other being Goran Pandev (who didn't play).
"But you didn't see a lack of attacking or creating chances, we created a lot of chances.
"Bayern had more of the ball but we were dangerous in this game and tried to create chances.
"We created five chances and they were clearer than the three they created, even though their general play was very good."