FORT WORTH, Texas, May 27 (AFP) – Americans Blake Adams, Jason Bohn and Jeff Overton all fired seven-under 63 in the first round of the 6.2 million dollar PGA Colonial.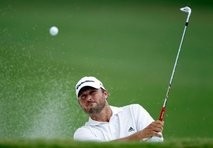 Blake Adams plays a bunker shot on the second hole during the first round of the 2010 Crowne Plaza Invitational. AFP photo
Former champion Phil Mickelson, who needs a win this week to surpass Tiger Woods as the No. 1 ranked golfer in the world, struggled to a one-over 71 and was tied for 89th place.
Mickelson, the 2008 champion here, got off to a quick start with birdies on his opening two holes, but couldn't keep it up.
A Mickelson win would give him his third career Colonial triumph and the top ranking for the first time in his career. But he has a lot of work to do after his disappointing round.
"There's no excuse. There's no wind, the golf course is in perfect shape, and there were a lot of scores out there," Mickelson said. "I just wasn't one of them."
Mickelson did not play in this event in 2009 because his wife Amy had been diagnosed with breast cancer.
England's Brian Davis was alone in fourth with a six-under 64 while defending champ Steve Stricker fired a 68.
There was a group of nine players at 65, including Aussies Nathan Green and Aron Price. They are one shot better than John Daly, who had his first bogey-free round in two years.
Davis left immediately after his round to get treatment for an abcess inside his mouth which left his face swollen.
Mickelson bogeyed two of the last three holes, saving par at No. 17 despite his approach shot hitting a television tower.
"I played well the first four holes, then the last 14, I hit the ball terrible, so I'll have some work to do," Mickelson said. "Already was in there texting Butch (Harmon, his coach) and so I've got some direction. In the morning, I'll probably get out here early."
Like Davis, Bohn also had a planned visit to the doctor once his round was complete. Bohn, who won last month in New Orleans, played through the pain of ear trouble to fire a season-best round.
Bohn said he woke up in the middle of the night with sharp pain in his left ear.
"But it didn't affect my play too much, so I'm not really complaining," said Bohn.
Overton, who teed off in the first group of the day, shot a backside six-under 29 which was one stroke off the course record.
He had one 10-hole stretch that featured seven birdies beginning on the eighth hole.