LA PLATA, Argentina, July 11, 2011 (AFP) - With Chile and Peru unexpectedly setting the pace in Group C of the Copa America, World Cup semi-finalists Uruguay have it all to do if they are to reach the quarter-finals.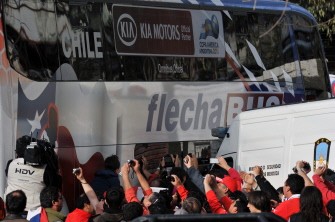 AFP - Chilean supporters surround the bus bringing the national football team before a training session in Mendoza, Argentina, on July 10, 2011. Chile will face Peru July 12.
A win over Mexico in La Plata on Tuesday is needed after the Charruas made a slow start in what coach Oscar Tabarez has called a "weird" tournament.
Despite talents such as Liverpool's Luis Suarez and Atletico Madrid's Diego Forlan to call upon the Celeste have been suffering from the strange affliction which has hit holders Brazil and hosts Argentina at the event to date -- an inability to win games.
Brazil coach Mano Menezes made the Uruguayans, who have won a joint record 14 continental titles with Argentina but none since 1995, his outside bet for glory.
But a draw with Peru was not the start that Tabarez wanted and an ensuing stalemate with Chile left the Uruguayans two points off the leading Pacific pair.
Should the Uruguayans win and their rivals cancel each other out they could end up with five points and yet, depending on goal difference and average, come third in the group.
However, it is likely that scenario would still see them through as the two best third-placed finishers in the competition's three groups will advance.
Tabarez admitted Sunday the tournament was not panning out the way he had wanted or expected.
"It's unusual the way things are going at the moment. It's weird to imagine a Copa America where Argentina, Brazil, Paraguay or Uruguay go out in the opening phase. And it's a surprise to see Argentina, Brazil, as well as Uruguay and Paraguay not winning either of their opening two games," he added.
"But I am sure the team will go out and fight for the result we need against Mexico.
The Mexicans, meanwhile, have seen their gamble of blooding a young side after the seniors won the Gold Cup backfire in terms of qualification after losing to Chile and Peru.
But the idea was to garner experence ahead of the 2014 World Cup qualifying programme.
One of their more experienced names, Gold Cup winner Giovanni Dos Santos, told reporters that "we must keep our heads up and do as well as we can. As long as there's hope we must keep plugging away."