MANCHESTER, England, May 10, 2010 (AFP) - Sir Alex Ferguson insists Manchester United will come back stronger than ever after Chelsea wrestled the Premier League title from Old Trafford.
For the first time in four years, Ferguson's side were denied the title as Chelsea romped to the championship with an 8-0 demolition of Wigan on Sunday that made United's 4-0 win over Stoke irrelevant.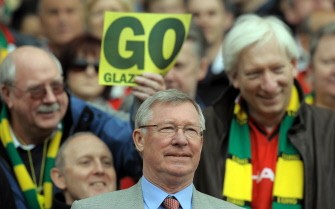 Supporters hold posters opposing Manchester United's US owner Malcolm Glazer behind United manager Sir Alex Ferguson's head before the English Premier League football match between Manchester United and Stoke City at Old Trafford on May 9, 2010. AFP PHOTO
Despite the disappointment of finishing second, Ferguson is confident that United, who ended just one point behind Chelsea, can regain the crown next season with a few minor alterations to the squad.
"Of course we'll come back next year. It is what Manchester United do," Ferguson said.
"We're going to try and bring the title back to the best place in the world.
"We have worked very hard over the course of the season and we will assess everything over the close-season.
"It is a good structure we have in place here but we are looking at it. There may be one or two things but at the moment nothing is signed."
Ferguson was full of praise for Chelsea's efforts over the course of the season and said that Carlo Ancelotti's side deserved their success.
"The title winners deserve it," added Ferguson, who has won the title 11 times in 18 seasons.
"It's the hardest league in the world. To Carlo, I congratulate him.
It was always going to be hard for Wigan to get something. When we heard they were down to 10 men all our hopes evaporated."
But after finishing the season with just the League Cup final victory over Aston Villa to celebrate, Ferguson was left reflecting on the moments that destroyed his side's campaign.
Ferguson admitted the shock of going out of the Champions League quarter-finals on away goals against Bayern Munich had been a massive blow, while he also rued a controversial decision to allow John Terry's winner for Chelsea against United in November.
"I am not going to agonise about where it went wrong. You could talk about a lot of things and the decision at Stamford Bridge was a bad one that turned the whole thing round," he said.
"But you can't agonise over these things. Sometimes you get the breaks, on other occasions you don't.
"The European Cup was the biggest disappointment. We should be in the final."
United stormed into a 2-0 half time lead against Stoke thanks to goals by Darren Fletcher and Ryan Giggs.
Although Danny Higginbotham's own goal and another by Park Ji-Sung propelled the hosts to an easy win, victory was in vain.
At full-time Ferguson went onto the pitch to deliver his annual end-of-season thanks to the United fans for their support and said: "It has been something of a roller coaster, but then it usually is.
"While we can look back with regret at the outcome of certain games -- losing twice to Chelsea certainly ranks as a huge disappointment -- there have also been some outstanding achievements and thrilling matches."
Meanwhile, Wayne Rooney delivered England coach Fabio Capello an injury scare as the striker was replaced after 75 minutes with a groin injury.
It will be a concern for Capello, who is due to name his 30-man provisional squad for the World Cup on Tuesday, but Ferguson believes it is only a minor problem.
"Wayne's aggravated his groin again," Ferguson said. "I think he'll be okay for England though. I don't think it is serious."