GENEVA, Sept 1, 2010 (AFP) - Vuvuzelas have been banned from UEFA matches, European football's governing body said on Wednesday, as it sided with chanting and singing in Europe's stadiums.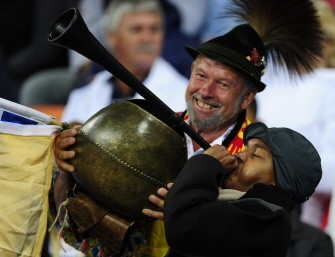 Vuvuzela seen during the 2010 World Cup in South Africa. AFP file
UEFA told its 53 member associations that it had adopted the ban to protect "Europe's football culture and tradition", adding that "the atmosphere at matches would be changed by the sound of the vuvuzela".
"UEFA has decided that vuvuzelas -- the trumpet that came to prominence at games during this summer's FIFA World Cup in South Africa -- may not be brought into stadiums at matches in UEFA competitions," it announced on its website.
The decision takes immediate effect, days before the kick off the Euro 2012 qualifiers and before the main phases of the Champions League and Europa League get under way this month.
Europe's footballing chiefs took exception to the introduction of "a continuous loud background noise", while acknowledging that in South Africa, "the vuvuzela adds a touch of local flavour and folklore".
The long plastic trumpets brandished by thousands of spectators alternately enchanted or infuriated football supporters, purists, players, coaches and commentators with their incessant soundtrack for the World Cup in South Africa.
Any bans on national league and cup matches in European countries are up to individual associations.
"The magic of football consists of the two-way exchange of emotions between the pitch and the stands, where the public can transmit a full range of feelings to the players," UEFA claimed.
"However, UEFA is of the view that the vuvuzelas would completely change the atmosphere, drowning supporter emotions and detracting from the experience of the game."
The governing body headed by ex-French international star Michel Platini defended a European footballing tradition of "singing, chanting, etc."
National football associations in Europe were told to ensure that clubs involved in UEFA competitions "take all necessary operational measures".