The Spring Football Cup wrapped up in Ha Noi on April 20 with the hot favorites U-23 Iran on the top, followed by U-23 Australia and Viet Nam.
The Middle East players tied 1-1 with Viet Nam in the last match at My Dinh National Stadium. They drew 0-0 with the Australians on April 16 and beat U-23 Uzbekistan 2-0 two days later.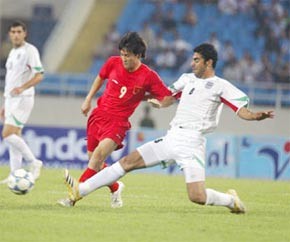 Viet Nam striker Le Cong Vinh (in red) fights for the ball with an Iranian player in their April 20 match (Photo: VietnamNet)
In the game with Viet Nam, determined to obtain a win to assure the first prize, the Iranian players deployed a pressing formation right at the beginning. They often threatened the Viet Nam goal during the first half and advanced in the 25th minute.
Vietnamese defender Huy Hoang tackled down Iran playmaker Sokrat in the penalty box. Sojaee scored with a penalty.   
Coach Rene Simoes asked his players to maintain their high pressure in the rest of the first half, but just right before the break, Viet Nam midfielder Hong Minh's shot hit an Iran defender and the goalkeeper failed to stop the ball.
Viet Nam played higher in the second half with the hope of a win for a higher position. Meanwhile, Coach Simoes asked his boys to play firmly because a draw was enough for them to take the trophy. No more goals were scored in the second half.
In the earlier match, U-23 Australia beat U-23 Uzbekistan 1-0 with the only goal coming from substitute Stanley in the middle of the second half.
The players from the land of kangaroos earned five points after two draws and one win in the tournament. They scored only one goal and conceded none.
Champions U-23 Iran received US$40,000, the runners-up US$20,000 and Viet Nam pocketed US$10,000 for their third position. The Uzbek team earned just one point after one draw and two losses.
Vietnamese fans were pleased with their team's ranking because the other teams came from countries whose national teams are much higher than Viet Nam's in the FIFA ranking.
The Spring Cup was the first warm-up tournament for Viet Nam this year. In January and February 2007, Viet Nam will vie with other Southeast Asian countries in the ASEAN Cup, and then compete in the Asian Cup 2007 for the first time ever.