TOKYO, May 31, 2010 (AFP) - Defender Marcus Tulio Tanaka is being hailed in Japan after scoring against England despite a third straight defeat for the national side in the run-up to next month's World Cup.
The Brazilian-born player netted early for Japan in their clash against Fabio Capello's side in Austria but two own goals -- including one from Tanaka -- allowed England to escape with a narrow victory.
"I am sorry for standing out on both sides," the 29-year-old centre back said after Sunday's game in the city of Graz.
"I really enjoyed it as I could go full out and we could demonstrate how much we can do against such a strong side," he said in a televised interview.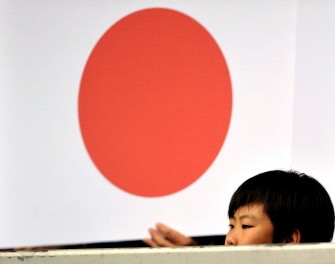 A young Japanesse fan is watching a friendly football match between England and Japan in Graz on May 30, 2010. AFP PHOTO
Despite another defeat for the Blue Samurai the Japanese press was full of praise Monday for the attack-minded defender after Japan went two matches without a goal.
"Leave it to Tulio!!" cried a banner headline in the Nikkan Sports. The Sports Nippon said: "A bit of light is beginning to shine on Okada's struggling Japan."
Japan slumped to a 3-0 defeat to a second-string Serbia in April and lost 2-0 to Asian arch-rivals South Korea last week, both at home. Tulio missed both matches due to suspension and injury.
Tanaka put his side ahead early in the first half but own goals from him and Yuji Nakazawa in the second half helped an unconvincing England salvage a win.
Tanaka welcomed his eighth international goal since his debut in 2006 when he missed the World Cup in Germany but was named J-League player of the year.
"It's all right if I score when it matters. It's fun to play European powerhouses," he told the Sankei Sports daily.
Under-fire coach Takeshi Okada, whose goal of a semi-final spot in South Africa has been widely ridiculed as unrealistic, said his team had focused too much on defending after opening the scoring.
"What we need to do from here is to raise our condition and boost the thrust of our attack," he said.
Japan, dogged by a lack of firepower and physical strength, face Cameroon on June 14 in Bloemfontein, followed by other Group E matches against the Netherlands and Denmark.
They will play Ivory Coast in their final warm-up match on Friday in Sion, Switzerland.
Former Japan coach Ivica Osim told Japanese media that the England match was positive for Japan.
"They played in a way which made it difficult at times to tell which side was England," said the 68-year-old Bosnian, who coached the former Yugoslavia to the 1990 World Cup quarter-finals.