Viet Nam's Under-23s will play Indonesia's national team, Olympic Cameroon and Olympic Finland in the Ho Chi Minh City International Football Tournament from November 15 to 19, one week before they leave for the Asian Games in Qatar. 
The BV Cup, named after title sponsor Bach Viet Co., will be Viet Nam's last encounter with international competition before the 15th Asian Games in December.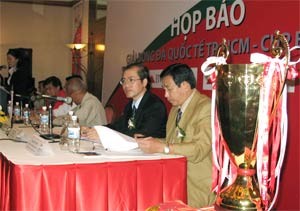 The tournament's trophy on display at Tuesday's press conference (Photo: Tuong Thuy)
One week before arriving in Viet Nam, Olympic Cameroon will play Olympic China in Guangzhou as part of their campaign to prepare for the Beijing Olympics, Mr. Tran Van Mui, general secretary of the Ho Chi Minh City Football Federation, told a Tuesday press conference.
Cameroon won the 2000 Sydney Olympics but did not perform well in the 2004 Athens Olympics, which is why the African country's football federation has worked out a campaign for the 2008 Olympic Games in China, Mr. Mui pointed out.
Regarding the team from Europe, Mr. Mui said Finland currently ranks 56th in the FIFA table, and its players in the BV Cup include three from the national squad. Their coach for the Viet Nam trip is Finland's U-21 coach Markku Kanerva.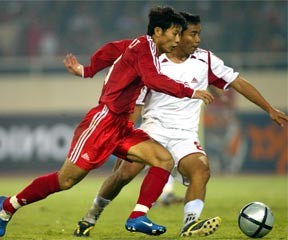 Viet Nam striker Thach Bao Khanh (L) fights for the ball with an Indonesian opponent in their 2004 Tiger Cup encounter in Ha Noi. Viet Nam lost 0-3. (Photo: SGGP)
Indonesia will be familiar opponents for Viet Nam as their English coach Peter Whithe is bringing seven players who were in his team that defeated Viet Nam 3-0 in the Southeast Asian Championship (Tiger Cup) in Ha Noi two years ago.
Vietnamese company Bach Viet has replaced Korea's LG as the title sponsor for the Ho Chi Minh City tournament and has a five-year contract.
The tournament, recognized by the Asian Football Confederation, will be a round-robin affair at Thong Nhat Stadium. Viet Nam Television and Ho Chi Minh City Television will broadcast all six matches live.
The champions will earn US$40,000, the runners-up US$20,000 and the third-placed team US$10,000. There will also be VND15 million for the fairest team, while the best player and best goalkeeper will each get VND5 million.
Mr. Mui from the Football Federation said the Asian Football Confederation would assess Viet Nam's ability to organize international matches through the BV Cup, a must for the AFC before Viet Nam, together with Indonesia, Malaysia and Thailand, hosts the 2007 Asian Cup for the first time.
BV Cup schedule

Nov 15
Indonesia – Cameroon  2:30 pm
Viet Nam – Finland   5 pm
Nov 17
Cameroon – Finland  3 pm
Indonesia – Viet Nam 5 pm
Nov 19
Finland – Indonesia  2:45 pm
Viet Nam – Cameroon 4:45 pm