Viet Nam have been drawn with defending champions Singapore and bitter rivals Indonesia in the group stages of next year's Asean Football Championship, and Thailand will meet Malaysia and Myanmar.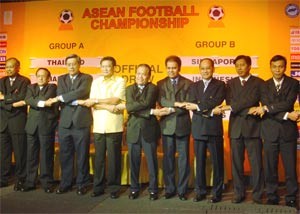 Asean football officials pose for picture at the official draw in Bangkok
The Southeast Asian tournament, formerly called the Tiger Cup, takes place every two years. The Asean Football Federation conducted the official draw for next year's cup in Thailand on Monday, dividing the eight teams into two groups.

Two-time winners Singapore will take on Tiger Cup 2004 runners-up Indonesia and Viet Nam in Group B. The group matches will be staged in Singapore.
Laos will also play in Group B after they survived the pre-qualifying tournament in the Philippines from November 12 to 20, in which Brunei, Cambodia and East Timor were eliminated.
The Thais, who have dominated Southeast Asian football for decades, have been drawn in an easier Group A and will also face the Philippines, who also passed the pre-qualifying tournament. The group matches will be played in Bangkok.
The winners and runners-up in each of the two groups will go through to the semi-finals and the final, which are played on a home and away format.
The group matches will be played from January 12 to 17 while the semifinals will take place from January 23 to 28. The losers in the semifinals will rank third equally, with US $15,000 for each team.
The final's two legs are set for January 31 and February 4. The champions will get US $100,000 and the runners-up US $50,000.