Viet Nam cruised into the Asean Football Championship semifinals with a 9-0 thumping of Laos in a Group B match on Wednesday. Defending champions Singapore also went through to the next stage after holding Indonesia to a 2-2 draw in the evening's other match.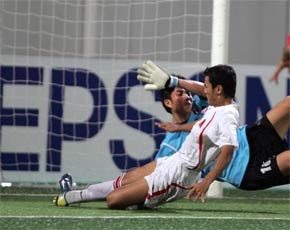 Viet Nam striker Phan Thanh Binh (in white) scores one goal in the Viet Nam-Laos game in Singapore on Wednesday. (Photo: SGGP)
With the triumph, the Vietnamese passed Indonesia, managed by former English striker Peter Withe, to secure Group B's second position to go into the last four of the tournament formerly called Tiger Cup.
Viet Nam grabbed an early lead when striker Le Cong Vinh fired a goal into the bottom right corner less than a minute after the kick off in the game in Singapore.
He blasted a second goal in the 28th minute, and it was followed within a minute by a goal from Phan Thanh Binh. A header by defender Nguyen Van Bien in the 45th minute gave Vietnam a 4-0 lead before the break.
Cong Vinh completed his hat trick in the 58th minute, while Thanh Binh found the net again on a penalty kick in the 73rd minute, finished his hat trick in the 81st minute and netted his fourth in the 84th.
Viet Nam under coach Alfred Riedl finalized the scored at 9-0 when Van Bien shot a point blank goal at full time.
Riedl was very glad with the result but said his team missed various scoring chances. If they had scored 12 goals, they would have taken the lead of Group B to avoid Thailand in the semifinals.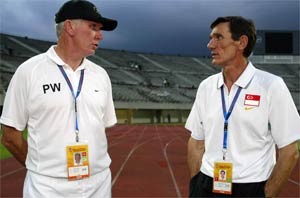 Indonesia coach Peter Withe (L) and Singapore coach Radojko Avramovich (Photo: SGGP)
In the other game played concurrently, Singapore leading striker Noh Alam Shah converted a penalty in the 10th minute after Indonesian goal keeper Hendro Kartiko was fouled in the area for tripping a Singapore player.
The Indonesians leveled in the 27th minute when Ilham Jayakesuma fired a low shot. However, Indra Sahdan netted the second goal the defending champions in the 52nd minute.
Indonesia, who came second in the 2004 Tiger Cup, again equalized in the 56th minute.
Singapore topped the table in Group B thanks to a plus 11-goal difference and will play Group A runners-up Malaysia on January 23 in the two-legged semifinals. The Vietnamese will first play host to three-time winners Thailand next Wednesday, while the return leg will be held on January 28.
Related article
Myanmar Out; Thailand, Malaysia In Semis