Favorites Thailand went through into the Asean Football Championship final after a scoreless draw with Viet Nam in their second-leg semifinal in Bangkok on Sunday night. One day before, defending champions Singapore defeated Malaysia with the penalty shoot-out in the other semifinal.
Thailand will meet Singapore in the final of the tournament – the first leg in Singapore on Wednesday and the second leg in Bangkok on February 4.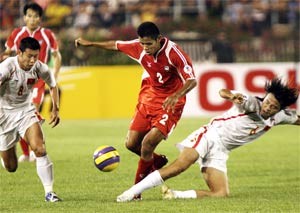 Thai defender Suree Sukha (C) fights for the ball with Nguyen Huu Thang of Viet Nam (R) in their Sunday game in Bangkok.
In Bangkok on Sunday, the Thais felt comfortable given a 2-0 advantage from the first leg in Ha Noi last Wednesday. The Vietnamese created different chances in the first half but Thai keeper Kittisak denied. Thai playmaker Datsakorn Thonglao and striker Sarayoot Chaikamdee also missed a very good chance each.  
 
Vietnamese forwards' lack of goals meant that their team's aggression did not result in clear difference with the Thais.
The match became a scoreless game after the second half in which no team had clear chances at the other's goal.
Viet Nam coach Alfred Riedl said in the post-match conference, "Overall, I would say Viet Nam were the better side from the point of performance. We created seven chances, including a penalty, in the first leg and did not score. You cannot win matches if you do not score."
Viet Nam and Malaysia came third equally in the tournament and each team will receive US$15,000 for the third prize. Three-time winners Thailand will play the final for the fourth time, while two-time champions Singapore will make the final for the third. The new champions will get US$100,000 and the runners-up US$50,000.
Last Saturday, Singapore in their home match drew 1-1 with Malaysia, exactly the same as the score in their first-leg semifinal in Kuala Lumpur. The two extra halves did not change the result, and Singapore won 5-4 in the penalty shoot-out.
Indonesia, Malaysia, Thailand and Viet Nam will co-host the Asian Cup 2007, starting in early July. Thailand are in Group A together with Australia, Iraq and Oman. Group B has Japan, Qatar, UAE and Viet Nam. China, Iran, Malaysia and Uzbekistan will compete in Group C; while Group D comprises Bahrain, Indonesia, the Republic of Korea and Saudi Arabia.