Thai Tourism Authority is talking with Paris-based Amaury Sport Organisation for the possibility of staging Tour de France, the world's biggest cycling race, in Thailand next year, the year of ASEAN integration into one community.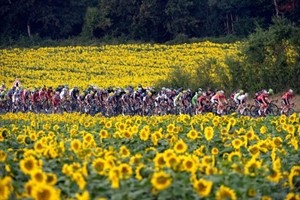 The peloton on stage nineteen of the 2014 Tour de France (Source: VNA)
The authority governor Thawatchai Arunyik said more talks are underway, however, it is expected that Thailand will play the perfect host to this esteemed and prominent cycling race as early as in 2015.
Tour de France was first held in 1903 originally just to increase sales for France's L'Auto magazine. Following the inaugural event success, the race turned into an annual event and has since become so famous that riders all over the world make it a must-participate race of a lifetime.
Thailand has also become a destination that international tourists must visit at least once in their lifetime. This makes a perfect combination for Tour de France to be held in Thailand, the world's famous tourist destination, according to Thawatchai.
The initiative to organise Tour de France is part of Thai tourism authority's plans to develop cycling tourism, which has been around for decades in Thailand. It is also to promote eco-friendly travel and green tourism since cycling is energy-saving and harmless to the environment, as well as promotes good health for the riders