BUENOS AIRES, July 16, 2011 (AFP) - Uruguay broke Argentina's hearts on Saturday, beating the hosts 5-4 on penalties to book a Copa America semi-final with Peru after Carlos Tevez missed the crucial kick.
Tevez, on as a late substitute, saw Uruguayan keeper Fernando Muslera save the third Argentinian spotkick as the albiceleste crashed out to extend a trophy drought going back to 1993.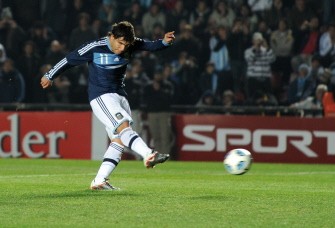 AFP - Carlos Tevez kicks the ball during the penalty shoot-out against Uruguay
"This was like a final. We played an Argentine side with a fantastic attack and had to scrap - but we have put out our biggest rivals," said Uruguay defender Diego Lugano, although although Brazil, who meet Paraguay on Sunday, are another tough nut still alive.
Diego Perez had given Uruguay a fifth-minute lead but Gonzalo Higuain levelled 12 minutes later.
Thereafter, a gritty encounter failed to produce further breakthroughs, despite the additional half-hour, with both sides having a goal chalked off for offside and also ending the contest with ten men.
Perez was sent off on 38 minutes for a second yellow card and then Argentina lost skipper Javier Mascherano in the 86th minute for a bad tackle from behind on Luis Suarez.
Lionel Messi strove manfully to provide the creative spark to snatch a win against Diego Forlan's Uruguayans in a battle of two sides who have won the event a record 14 times each.
But the Barcelona man was frustrated throughout despite creating the Higuain goal.
And after Messi and Forlan had converted their kicks before Tevez fluffed his lines, Martin Caceres drove home the winning penalty as Uruguay moved into a semi-final against Peru, conquerors of Colombia.
Argentina thus themselves fell victim to the curse of the Elephants Graveyard, the nickname of Colon club's Santa Fe stadium, scene of many a domestic shock in the past.
Peru had provided a shock of their own in seeing off favoured Colombia 2-0 in extra-time and will meet Uruguay next Tuesday at La Plata.
Colombia had won their group at the expense of Argentina and, with highly-rated striker Radamel Falcao in their ranks, were expected to reach the semis against a side which just sneaked into the second phase as a third-placed pool finisher.
But the Porto forward missed a penalty in normal time for the 2001 champions.
Peru, chasing a third title but a first since 1975, triumphed after surviving Falcao's miss and two efforts which hit their woodwork before Carlos Lobaton smashed home the opener 11 minutes into extra-time.
Six minutes into the second extra period Juan Vargas then drove in a left-foot shot to clinch a famous win.
Peru's gruff coach Sergio Markarian was delighted.
"I salute them because they applied themselves really well. They showed great tactical discipline, were committed and made a great effort," said Markarian, who took over a side which came rock bottom of the South American World Cup qualifying group.
Sunday sees the Brazilians take on Paraguay at La Plata while Chile go up against surprise package Venezuela in San Juan near the Chilean border.