LONDON, May 12, 2010 (AFP) - Fabio Capello will be glad if he gets to Sunday without suffering any further setbacks to England's preparations for the World Cup in South Africa.
A week that began with the first significant misjudgement of the Italian's time in charge ends on Saturday with the FA Cup final, the last act of an English club season that has, so far, left the Italian's squad for the tournament relatively unscathed.
The same cannot be said for Capello's reputation, which has taken a bit of a hit following his decision to put his name to a player rating system that would have resulted in England stars being marked on their performances within a couple of hours of matches during the tournament.
Capello's employers at the Football Association (FA) quickly decided that their six-million-pound-a-year head coach could comfortably do without the extra income the project would have generated and, following a barrage of hostile media comment, the venture has been shelved until after the tournament.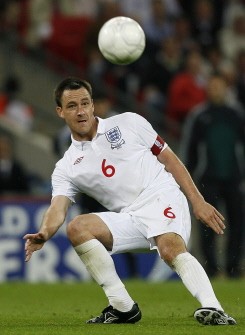 (AFP files) A file photo taken on June 10, 2009, shows England footballer John Terry in action at Wembley Stadium, London, on June 10, 2009.
The ease with which things can go wrong in the build-up to a major tournament was underlined on Wednesday, when John Terry was rushed to hospital for a scan on his right foot amid fears that England's World Cup metatarsal injury curse had struck again.
As it turned out, Terry had not suffered any major damage and he was hopeful of leading Chelsea out at Wembley on Saturday in a match Capello will be watching for pointers to the form of Frank Lampard, Ashley Cole and David James.
At the same time the Italian will be keeping his fingers crossed that none of them suffer the kind of injury that has left Gareth Barry battling to be fit for South Africa.
Terry said the scan had been a purely precautionary move.
"I took a slight knock in training but with such an important match on Saturday the right course of action was to put a protective boot on my right foot and have a CT scan," he said.
"The scan has shown there is no break and I am hoping to train tomorrow (Thursday) if not Friday and of course play in the FA Cup final on Saturday."
A metatarsal fracture of the kind suffered by David Beckham prior to the 2002 World Cup and Wayne Rooney in the run up to the last one in 2006 would have left Terry with no chance of featuring in England's campaign in South Africa, which kicks off on June 12 against the United States in Rustenburg.
It would also have compounded what has been a tough season for the defender, who was stripped of the national team's captaincy earlier this year following revelations of an extra-marital affair.
Terry's form dipped in the aftermath of the scandal and his status as an automatic first-choice for England is under threat from Ledley King, the Tottenham centre-back who finished the season in commanding style and was included in the 30-man provisional squad Capello named on Tuesday.
The national team coach also succeeded in persuading Liverpool's Jamie Carragher to come out of retirement from international football, providing himself with further cover at centre-back.
Barry, Capello's first choice in the holding role in midfield, suffered ankle ligament damage last week and a medical on May 24 will decide if he goes to South Africa.