MELBOURNE, Jan 21, 2011 (AFP) - Andy Roddick fought back from a set down to defeat hobbling Dutchman Robin Haase and reach the Australian Open's fourth round on Friday.
The American eighth seed looked flustered early on but put his game together to bundle out the 62nd-ranked Haase, 2-6, 7-6 (7/2), 6-2, 6-2 in 2hr 26min on the hottest day of the tournament.
Roddick, a four-time semi-finalist at Melbourne Park, will play either Swiss 19th seed Stanislas Wawrinka or French 12th seed Gael Monfils in Sunday's round of 16.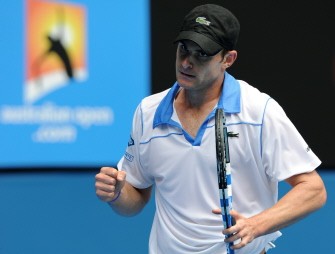 Andy Roddick reacts during his match against Igor Kunitsyn of Russia on January 19, 2011.
Roddick said he benefited from playing more aggressively after his second round win over Russian Igor Kunitsyn.
"I was given advice from my coach Larry Stefanki to play more aggressively and position myself better on court and it paid off," Roddick said.
Haase got off to a wretched start when he rolled his right ankle in the second game and needed a medical timeout to strap it up and continue on in pain.
But the Dutch giant had Roddick under pressure throughout the opening set winning it with two service breaks, with the American failing to earn a break point.
Roddick turned the match around when he capitalised on Haase's errors in a tiebreaker to level the match, and then hit the front with two more service breaks in the third set as Haase bravely battled on.
"He gave me some help in the tiebreaker by serving two double-faults and I hit a good return on the line and then had two serves with the wind behind me," Roddick said of his second set tiebreak win.
It was all plain sailing from there for Roddick with the big Dutchman tiring in the 32 deg C (90 F) heat and the effects of his ankle injury, and was broken twice in the final set.
Roddick's serve was on song and he thundered down 32 aces and had a first serve percentage of 68 percent.
The American was an Australian Open semi-finalist in 2003, 2005, 2007 and 2009 and last year was knocked out by Croatia's Marin Cilic in the quarter-finals.