LONDON, July 2, 2011 (AFP) - Petra Kvitova revealed she had an emotional encounter with former Wimbledon champions Martina Navratilova and Jana Novtona after becoming the third Czech to lift the women's singles crown here Saturday.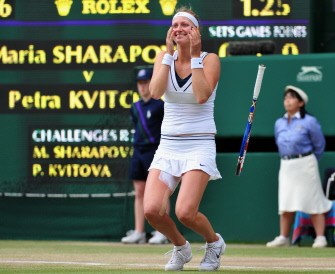 AFP - Czech player Petra Kvitova celebrates after beating Russia's Maria Sharapova in the Women's Final
Nine-time champion Navratilova and 1998 winner Novotna looked on with delight from the royal box after Kvitova upset Russian favourite Maria Sharapova 6-3, 6-4 to claim her first Grand Slam title.
The 21-year-old, who was born just a few months before Navratilova won the last of her Wimbledon crowns in 1990, later broke down in tears after meeting her two idols following her win.
"They were so happy, I cried after I met them," said Kvitova, the world number eight.
"It's hard to find some words, to see the great players in the royal box. It's very nice when they're watching me all the time and supporting me. We gave each other a hug."
The left-handed Kvitova showed a maturity which belied her tender years to down Sharapova, outsmarting the 2004 champion with her wicked sliced serve and some rasping groundstrokes.
"I think that in the important points I played well. I made important points," Kvitova said.
The win showed the rapid progress Kvitova has made in the 12 months since she was beaten by Serena Williams in the semi-finals last year.
"Last year I hadn't many chances to win. Serena played so well. Yeah, I was young and I didn't think that I can beat her," she said. "But today I felt that I could win."
Kvitova admitted that victory would take a while to sink in.
"I don't know about this still. It's still an unbelievable feeling. Maybe I'll accept it after a few days," she said.
The new champion told the CTK news agency that she was always confident she could exploit the Russian's serve in the final.
"I knew I was good on the return and her serve wasn't great enough to stop me from returning. I believed I could get a break again," she said.
"I hope this won't change me. I can't imagine what will follow. It will be OK here, but when I fly back home, I have no idea what to expect."