LONDON, July 3, 2011 (AFP) - Novak Djokovic vowed not to be outmuscled by Rafael Nadal in Sunday's Wimbledon final when he will attempt to inflict the great Spaniard's first defeat at the All England Club in four years.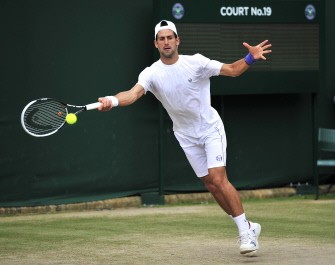 AFP - Novak Djokovic returns the ball during a training on the eve of the men's final against Spanish player Rafael Nadal
Djokovic has defeated Nadal in all four of their meetings in 2011 as the Serb has stitched together a remarkable record of 47 wins in 48 matches since the turn of the year.
But Nadal, the defending champion, has an extra incentive to win a third Wimbledon title after his Serbian opponent guaranteed he would take over as world number one when the new rankings are released on Monday.
"It's quite different playing Nadal in a Grand Slam because it's a best of five. So physically we all know that he's superior and he's the strongest player around," said Djokovic, the Australian Open winner.
"I'm ready for long rallies, long points. I need to be physically ready, which I am. I feel fit and mentally motivated.
"Also the four times I won against him this year can probably help me in some ways mentally. Against Rafa, if I have any chances of winning, I need to serve well and I need to be aggressive. That's the game plan."
Djokovic is the sport's in-form player with his French Open semi-final loss to Roger Federer his only defeat in his last 50 matches, a run which stretches back to Serbia's maiden Davis Cup triumph last December.
The 24-year-old insists that Wimbledon was always the one major he dreamed of winning when he was growing up in Belgrade.
"I was always trying to visualise myself on Sunday, the last Sunday of Wimbledon. Being in the Wimbledon final it's 'the thing' for me," said Djokovic.
Nadal, on a 20-match winning streak at the All England Club, is adamant the prospect of a third Wimbledon title is the only statistic that occupies his mind and not the loss of his top world ranking.
The 2008 and 2010 champion, will be appearing in his fifth Wimbledon final while Djokovic will be making his debut in the title match.
The odds are stacked in the top seed's favour, but the Spaniard believes that even victory will not necessarily mean he is destined to overhaul Federer's record of 16 Grand Slam titles.
"The number 16? I think about the number 10. That's what I have at home. I don't have 11, I don't have 12, I don't have 15, or 16... 16 is very far," said Nadal.
"I believe the number is not going to stop there. Roger will have chances to win more. Seriously, this is not my goal. I am very happy about my 10."
Also on Sunday, India'a Mahesh Bhupathi and Elena Vesnina of Russia, the fourth seeds, face Jurgen Melzer of Austria and Czech player Iveta Benesova, seeded ninth, in the mixed doubles final
The girls final will see Australian 12th seed Ashleigh Barty facing Irina Khromacheva, the Russian third seed.