NEW YORK, Sept 1, 2010 (AFP) - Sweltering conditions and gusting winds proved a handful at the US Open on Wednesday, but it was the consequences of a simple training stumble by Belarus starlet Victoria Azarenka that shocked fans.
The 10th seed was 1-5 down in a second round tie against Argentina's Gisela Dulka when she suddenly collapsed in a heap behind the baseline.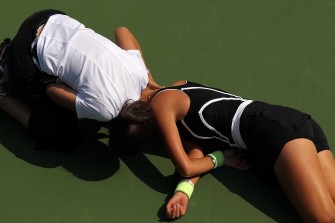 Azarenka is tended to by medical personnel on the court after she collapsed. AFP
She received urgent medical treatment for several minutes before being taken away in a wheelchair to hospital for tests on her condition.
With temperatures at Flushing Meadows once again soaring into the 90s Fahrenheit (30s Celsius), first indications were that she had fallen victim to the extreme conditions.
But Azarenka later shed light on the incident by explaining in a statement that she had fallen in the gym prior to her match while running a sprint and had stumbled forward, hitting her head and arm.
"I was checked by the medical team before I went on court and they were courtside for monitoring," she said.
"I felt worse as the match went on, having a headache and feeling dizzy. I also started having trouble seeing and felt weak before I fell.
"I was taken to the hospital for some medical tests and have been diagnosed with a mild concussion."
A former top junior, Azarenka is regarded as one of the best young players in the world at the moment and had been expected to make a run at the title here.
The conditions did pose problems for third seed Venus Williams as she struggled past Canadian qualifier Rebecca Marino.
The sole US seed in the women's draw won through 7-6 (7/3), 6-3 to set up a third-round tie against another qualifier, Mandy Minella of Luxembourg, who upset 32nd seed Tsvetana Pironkova of Bulgaria.
But she was made to scrap for it all the way, especially in a first set which saw Marino, who at 19 was 11 years younger than her opponent and playing in just her second WTA Tour-level event, regularly out-hit the two-time former champion in New York.
Williams had trouble with her serve action as the hot morning conditions on the Arthur Ashe Stadium Court were joined by gusting winds in the afternoon.
Marino, behind a big serve and forehand, stayed with Williams to 3-3 in the tie-breaker, before the sole US seed this year ran off four points in a row to move ahead.
The American won three games in a row to move 4-1 up in the second set and then served out to advance into the third round.
"It was challenging, not just with the conditions, but also my opponent. She served so well and mixes up her shots," Williams said.
"It seemed like every time I had an opening she came up with a big serve, so I guess I know what its like now playing myself."
Defending champion Kim Clijsters avoided the heat at least, winning the opening match of the night session 6-3, 6-1 against 19-year-old Australian qualifier Sally Peers.
Also through was French Open champion Francesca Schiavone, who looked back to near her best in a 6-2, 6-2 demolition of Spain's Maria Elena Camerin.
The 30-year-old, who played the best tennis of her life to lift the French crown in Paris in June, said that although she was pleased with the way she had played, she still needed to improve.
"It was nothing special because I want to serve better. I want to play some more aggressive shots," she said.
"I want to became much more stronger, and from the baseline go pushing to the net. I want to do this."
Just as impressive was former French Open champion Ana Ivanovic, who looked more like her old self in crushing China's Zheng Jie 6-3, 6-0 in the opening match on the Arthur Ashe Centre Court.
The 22-year-old Serb beauty has been mired in a rut since winning the French Open in 2008 and taking the world number one spot.
She failed to cope with the sudden celebrity and status and saw her world ranking plummet throughout 2009.
But after taking on Steffi Graf's former coach, Heinz Gunthardt, as her mentor in February this year, Ivanovic has been gradually working her way back.
Ivanovic next goes up against French wildcard Virginie Razzano of France, who ousted 13th seeded compatriot Marion Bartoli 7-5, 6-4.
"I feel like I am playing like a top-10 player again and my confidence is there, which is huge for me," she said.
Dulko, who advanced on the back of Azarenka's collapse, will next play rising Russian star Anastasia Pavlyuchenkova, who ended the hopes of Sania Mirza of India 6-2, 6-4.