CAMPANA, Argentina, July 8, 2011 (AFP) - Like Argentina, Brazil have made a sluggish start at the Copa America, but they get a second chance to impress on Saturday against Paraguay at Cordoba.
An opening draw with unheralded Venezuela was an embarrassment of sorts for the auriverde yet the five-times world champions will be able to look back on that struggle as a necessary evil if they can add three points at Paraguay's expense.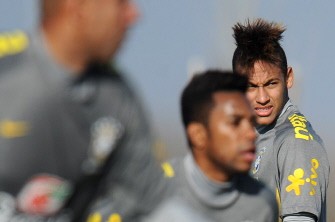 AFP - Brazilian footballer Neymar (R) looks on during training session in Campana, Buenos Aires, Argentina during the 2011 Argentina Copa America on July 7, 2011. Brazil will face Paraguay July 9.
With the Paraguayans finding Ecuador likewise too tough a nut to crack, everyone in Group B goes into the second round of matches level on points.
While Venezuela try to get past Ecuador as they target a place in the quarters for the second time in a row - but first outside their homeland - the Brazilians are knuckling down to try to prove their poor first match was an aberration, says coach Mano Menezes.
Midweek training at their Campana base, north of Buenos Aires, saw Menezes carefully go through various permutations, including one that would see Robinho, ineffectual in the opener, dropped to the bench.
He also supervised a session without goalposts to work on tactics and general movement, perhaps in the hope that might whet the strikers' appetite after they gave the impression they had forgotten where the net is at La Plata last Sunday.
Robinho could give way to Elano and Ramires to Lucas although Menezes is giving nothing away.
"I cannot confirm any changes. Regarding the line-up against Paraguay I will speak about that on Saturday before the game," he insisted.
Robinho, now an elder statesman in a young squad with its eyes on the 2014 World Cup, has been keeping up a smile in training and that attitude has spread through a squad keen to draw a line under the Venezuela flop - the freezing conditions did not help.
Brazil head for Cordoba on Friday and then head back to Campana on Sunday in order to prepare for the final showdown with Ecuador next Wednesday, also at Cordoba's Mario Kempes stadium.
Paraguay meanwhile must keep Brazil starlet Neymar under tight wraps, said defender Paulo Da Silva.
"He's quick, lively and causes plenty of problems so we'll have to be careful to get on top of him," said Zaragoza star Da Silva, who is aware he will have to be careful to time his tackles just right.
"He geos down easily on contact owing to his weight," said Da Silva, noting the Santos man is by no means a heavyweight at 62kg.
Da Silva says Paraguay must concentrate right to the final whistle "because they can pierce our ranks just once and win it. If you give them two or three metres start then you're taking a risk. Brazil live off the space their opponents give them," he warned.
Midfielder Nestor Ortigoza said simply: "We've got to get right in among them and get on top of them. We both need points."