BUENOS AIRES, July 24, 2011 (AFP) - Uruguayan coach Oscar Washington Tabarez on Sunday earned a deserved reward for five years of overhauling the Celeste as he led them to a record 15th Copa America with a 3-0 win over Paraguay.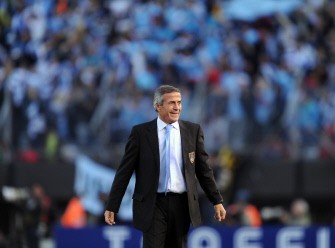 AFP - Coach Oscar Tabarez celebrates at the end of the final
The Uruguayans had not won a major prize since their last Copa in 1995, but under the studious Tabarez they have been steadily improving and, having reached last summer's World Cup semi-final, showed that was no fluke by outclassing the Paraguayans with two goals from Diego Forlan and another from Luis Suarez.
"It's all about the institutionalisation and the education of footballers," said Tabarez, who has sought to create as seamless a transition as possible between his country's younger age group teams and the senior.
"I want to bring the youngsters on with a view to (preparing them for) the next five-year cycle, said Tabarez, whose forward thinking has seen the Uruguayans begin to punch above their weight again despite their population of just 3.8 million.
"That is the key to continuity - always maintaining an eye on future reinforcement."
Despite the pocket-sized nature of the country compared with neighbouring Brazil as well as Argentina, the Charruas are one of the most successful nations in footballing history, having won the inaugural Copa in 1916 and the first World Cup in 1930.
A second success in the global event followed at Brazil's expense in 1950 and they now have the Copa record, having gone one better than Argentina's 14 titles after putting this year's hosts out in the quarter-finals.
Tabarez says faith in youth is more important to him than faith in tactical dogmas.
"There are no new tactics because there is so much news nowadays which used not to be the case. We all know how each other plays and we know all about each other.
"We are certainly very pleased with our work," said Tabarez, who recalled his lifelong enthusiasm for the game began when his father took him to a match when he was 12.
Working with young players on the cusp of stardom is a "priceless" feeling for Tabarez, who is fortunate to have youngsters of the calibre of Suarez, and doubly fortunate that the Liverpool hitman can link so effectively at the other end of the age scale with Forlan, a veteran at 32.
Asked how he manages the dressing room at a level which does not involve the week-to-week togetherness of the club game, Tabarez said he revelled in trying to transfer the knowledge of "how to influence things - with respect and professionalism."
Such qualities enabled the Celeste to carry off not just the oldest trophy in international football but also the fair play award for the tournament, which came on the back of strong showings at under17 and under20 level.
"I am very pleased. It is something we worked on and, while it is not necessary to win it, you need to comport yourself well."
Taberez said he has tried to infuse his players with the values and proud history of the Uruguayan team.
But he says that they must not rest on their laurels with the first 2014 World Cup qualifiers just three months away.
"Just because we won the Copa is no guarantee for the qualifiers. We have to confirm," stressed Tabarez, who has brushed away remaining vestiges of the "complex of 1950," whereby some Uruguayan fans still hark back to their World Cup success in Brazil, using the feat as a yardstick with which to beat that team's successors.