SHANGHAI, July 22, 2011 (AFP) - Swimming great Ian Thorpe can lead a new generation of Australian swimmers, veteran Geoff Huegill said Friday as the country seeks to stay in the leading pack at the world championships.
Thorpe, 28, who has won nine Olympic medals in total, including five golds, quit the sport aged just 24 in 2006 citing a lack of motivation but announced his return in February, targeting next year's London Olympics.
Huegill said the return of Thorpe had given the Australian team a lift, although he is not part of their squad for the world championships.
"I think having guys like Thorpey back in the sport is quite exciting," Huegill said, before the world championships' swimming events start on Sunday.
"He was an athlete that without doubt was the best athlete that's ever walked on an Australian pool deck and to see him walk away from the sport at such a young age was a real shame."
"But to know he's got the hunger and the passion deep inside him to want to compete in London is a very exciting thing," added Huegill, who has three world championships golds.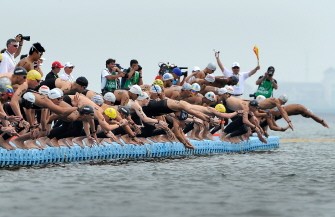 AFP - Competitors dive in at the start of the men's 5km open water swimming event of the FINA World Championships at Jinshan beach in Shanghai on July 22, 2011.
Huegill, 32, who came out of retirement and shed 45 kilos (90 pounds) to claim Commonwealth gold last year, backed Thorpe to keep racing until the 2014 Games and even the 2016 Rio Olympics.
"I think he still has that passion but most importantly will maintain that passion going on to possibly 2014 if not Rio (Olympics) in 2016 because he's definitely at the right age to bring some great strength to the Australian team again," he said.
Australia come into the worlds desperate to cling on to their status as a top swimming nation after a disappointing world championships in 2009 when they slipped to fourth in the swimming medals table, with three golds.
The previous year at the Beijing Olympics they were second with six golds, behind only the United States.