SHANGHAI, July 26, 2011 (AFP) - American star Michael Phelps side-stepped the doping row overshadowing the world championships Tuesday after a victory by controversial Brazilian Cesar Cielo was met with anger from other swimmers.
Phelps refused to comment on Monday's events when Cielo was given the "thumbs-down" gesture by a competitor and whistles were heard from the athletes' section of the crowd after he won the 50m butterfly.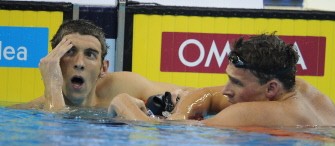 AFP - Phelps (L) and US swimmer Ryan Lochte gesture after they competed in the final of the men's 200-metre freestyle swimming event in the FINA World Championships at the indoor stadium of the Oriental Sports Center in Shanghai on July 26, 2011. Lochte won the race as Phelps won silver.
"I have nothing to say. I have nothing to say to that," Phelps said after his 200m freestyle heat on Tuesday.
Kenya's Jason Dunford emerged from the pool after Monday's race to give the thumbs-down to Cielo, who was in floods of tears on the victory podium following a drugs case which was only resolved last week.
Cielo was let off with a warning by the Court of Arbitration for Sport for testing positive for a banned diuretic, which can be used to mask performance-boosting drugs. He has denied wrongdoing.
But the decision has caused disquiet among fellow swimmers, with US veteran Jason Lezak saying many were unhappy that Cielo had been cleared to compete.
Phelps qualified 11th fastest for the 200m butterfly semi, saying he was trying to conserve energy for Tuesday evening's 200m freestyle final, when he will try to win a first gold medal in Shanghai.
"It was funny. I was coming over, (US team director) Frank Busch said we only need about a five iron this morning," said Phelps, who is a keen golfer.
"We don't need to hit a driver so I just wanted to make it back, that's all I really needed to do. I think the real thing is going to be the first event tonight," he added, referring to the freestyle final.
"If I'm able to come off of that and set up something good for a final tomorrow that's all I can really ask for."
China's Sun Yang topped timings for the men's 800m freestyle final, when he will try to add to his 400m silver medal, and Italy's world and Olympic champion Federica Pellegrini safely reached the women's 200m freestyle semi-final.
In Tuesday's finals, European champion Camille Lacourt of France is up against Britain's world 50m title-holder Liam Tancock in the 100m backstroke and America's Rebecca Soni will defend her 100m breaststroke crown.
America's world record-holder Kate Ziegler will be in action in the women's 1500m final along with 2009 silver medallist Lotte Friis and 16-year-old Chinese Shao Yiwen, the Asian champion over 400m.
And Australia's Emily Seebohm and Leisel Jones will challenge America's Olympic champion Natalie Coughlin in the women's 100m backstroke.