SHANGHAI, July 30, 2011 (AFP) - American great Michael Phelps won the 100m butterfly in convincing fashion on Saturday to prove he is far from a spent force in swimming despite a disappointing world championships.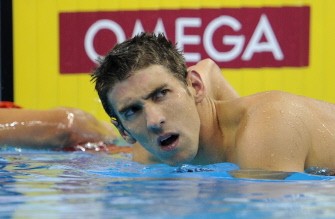 AFP - Michael Phelps checks the scoreboard after he competed in the final of the men's 100-metre butterfly swimming
The defending champion, world record-holder and Olympic gold medallist was third at the turn but he swept through the field over the final 50 metres to win in 50.71sec, ahead of Poland's Konrad Czerniak and America's Tyler McGill.
With nemesis Ryan Lochte watching from the stands, Phelps extended his record number of world titles to 25, including three in Shanghai, alongside two silver medals and one bronze.
Phelps returned to China looking for a possible seven golds, to follow his eight from the 2008 Olympics, but he was beaten by Lochte in the 200m freestyle and again in 200m individual medley, where his team-mate set a world record.
The United States also enjoyed success through 16-year-old Missy Franklin, who claimed her second title -- and fourth medal overall -- with a dominant victory in the women's 200m backstroke.
Franklin was never behind in the race and she won it convincingly in 2min 5.10sec ahead of Australia's Belinda Hocking and Sharon van Rouwendaal of the Netherlands.
Meanwhile Dutch swimmer Inge Dekker upset a field including the world record-holder and defending champion to win the women's 50m butterfly and claim her first individual world title.
Dekker timed 25.71sec ahead of Therese Alshammar of Sweden, with France's Melanie Henique taking bronze and 2009 winner Marieke Guehrer dead last.
Earlier, controversial swim star Cesar Cielo successfully defended his 50m freestyle world title as the sport's chiefs criticised doping rules after a case involving the Brazilian.
The Olympic champion and world record-holder's victory never looked in doubt as he surged down the Sea Crown stadium pool to touch in 21.52sec ahead of Italy's Luca Dotto and French swimmer Alain Bernard.
"It's been a crazy week, and crazy situation," admitted Cielo, who welled up in tears on the victory podium.
"For next year's Olympics, I must be a little bit faster. There is a little room to improve. Today I just focused on the race, thought about the race. I am very, very happy."
Cielo has been a contentious figure in Shanghai after escaping suspension on the eve of the championships despite testing positive for a banned diuretic earlier this year.
In an interview with AFP, FINA executive director Cornel Marculescu criticised World Anti-Doping Authority (WADA) rules and said athletes' anger over the case was understandable.
Some swimmers have expressed unhappiness at the ruling and Kenya's Jason Dunford gave the "thumbs-down" gesture after Cielo's earlier victory in the 50m butterfly.
Asked whether he could understand the response, Marculescu said: "Yes, I do. Yes, it's normal. The people feel frustrated. What can I say?"
Marculescu said FINA would raise the case with WADA, complaining that revised guidelines had led to confusion among athletes and allegations of unfair treatment.
The swimming body has now approved a pilot project to create "biological passports" by storing the results of blood tests to detect suspicious variations over time.