IRVINE, California, Aug 5, 2010 (AFP) - Michael Phelps won the 100m butterfly at the US swimming championships on Thursday, nabbing the 50th national title of his career with a time that put a smile on his face.
Phelps clocked 50.65sec, fastest in the world this year, and said he was pleased with the effort a day after bemoaning a "terrible" performance in winning the 200m fly on Wednesday.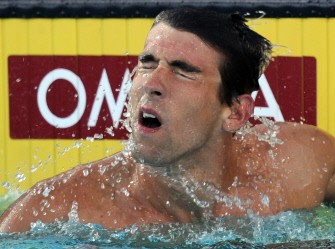 Michael Phelps reacts to a first place finish in the Men 100 LC Meter Butterfly Final at the William Woollett Jr. Aquatics Complex on August 5, 2010 in Irvine, California. AFP
"I was real happy with that. I wanted to put some distance between my time and the (previous) fastest time in the world," said Phelps, who surpassed the 51.70 set by Evgeny Korotsyshkin.
He was comfortably in front of runner-up Tyler McGill (52.20), with Timothy Phillips third in 52.41.
"My stroke felt a lot better, my walls were better. I felt more myself going into the race tonight," said Phelps, who has struggled for consistency this year after a break from his usual arduous training regimen.
Phelps' 50 national titles are the most of any US swimmer. Tracy Caulkins is next on the list with 48.
Rebecca Soni delivered her trademark strong finish to win the women's 100m breaststroke in 1:05.73, another fastest time in the world this year.
Soni, who saw the world record she set in winning the 2009 world title eclipsed last August by teammate Jessica Hardy, trailed Hardy narrowly at the turn, but powered home as Hardy faded to seventh.
Ann Chandler was the surprise runner-up in a quality field that also included 2000 Olympic gold medalist Megan Jendrick and 1996 Olympic silver medalist Amanda Beard.
Chandler was well adrift in 1:08.07, but was delighted to book a place on the team for the Pan Pacific Championships in the same pool later this month.
The times from the two meetings will determine the US team for next year's World Championships in Shanghai.
That made for extra tension as controversy erupted in the men's 50m free, the final of which was swum under protest after Josh Schneider was allowed to compete despite being declared ineligible.
At issue was Schneider's failure to turn up for the 100m fly heats without officially scratching. Although the rules say that makes him ineligible to swim later events on the same day, he appealed and as his appeals continued he was allowed to compete.
Nathan Adrian won the final in 21.70, while Schneider tied for second with Cullen Jones in 21.97 to put a potential Pan Pacs berth in limbo.
USA Swimming rules official Bruce Stratton said the results of the final would likely not be official until at least Friday, after Schneider took his appeal to the governing body's board of directors.
Adrian's victory is secure, he said, but the other places could yet change.
Olympian Kara Lynn Joyce won the women's 50m free in 24.86, claiming the second national title of her career four years after her first.
"It feels so good to come here again and go faster," said Joyce, who failed to make the final at last year's nationals.
Madison Kennedy was second in 25.15 while Hardy endured another tough swim and finished sixth.
"I overthought it. What happened as the result of my head and not my physical capacity," Hardy said. "It was completely mental, a panic."
Hardy is swimming in her biggest meeting since serving a one-year doping ban that ended last August.
She returned with a splash with her breaststroke world record, but her fight against the World Anti-Doping Agency's bid to extend her ban continued until a CAS ruling in her favor in May.
"I definitely had some rough stuff this past year. I'm battling," Hardy said, her voice cracking. "That (day's performance) was the result of that."
Caitlin Leverenz won the 400 individual medley in 4:35.60, finishing ahead of Ariana Kukors and American record holder Katie Hoff.